Interact with a Myriad of Students at the Rao Fair!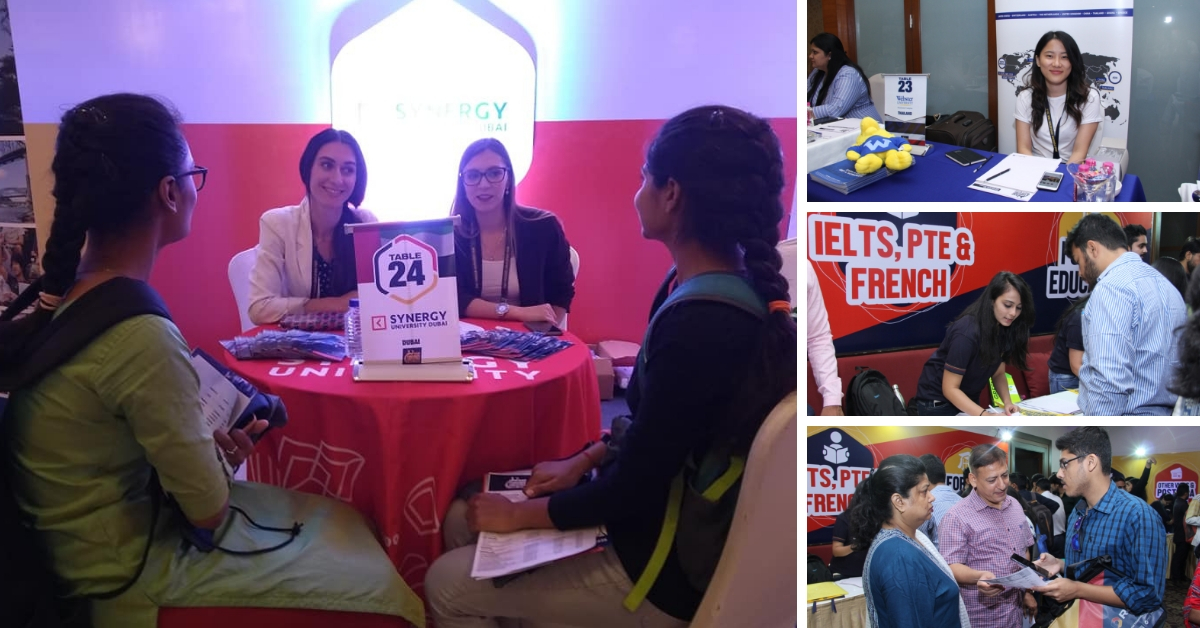 The rustles and bustle of one of the most awaited education fair has already begun. International representatives of all the universities from the world over are geared up to come here and give you an opportunity to interact with them directly and get all the information that you need!
But that's not all. If you thought a fair is only about seeking information, then you are wrong. There is so much going on at the Rao Fair that it will not just prepare you to go abroad to pursue your studies, but to also make sure that you can make friends and solid connections, even before you leave from here!
Getting to know other students
The Rao Foreign Education Fair saw a footfall of over 2500 people and 1300 registrations last year. When you visit the fair this year, prepare to be amazed at the volume of students aspiring to reach different countries and pursue their education.
This will be a very good time for you to be able to understand and listen to the questions that some of the other students and their parents have. Going abroad is a huge step and involves a lot of minor details.
It is entirely possible that you do not have all the information that you need. When you are at a gathering with a host of other students all moving forth with the common objective of getting to know everything that is associated with foreign education, you may find yourself with a bunch of new opinions, fears, questions and answers that you perhaps never thought about.
The best part of the fair is that it not only exposes you to new ideas and questions but also gives you the chance to talk to university representatives directly to solve these queries. You don't have to rely on anyone else's opinion or judgment because you can get all the information right from the horse's mouth.
Make connections for post landing benefits
If you get yourself registered right there at the fair, it will be a tremendous opportunity to help you connect with other registered students and form a community to assist you post landing. Going to a whole new country can be a challenge and when you do that with a backup of having friends, life becomes a lot easier.
Since at the Rao Foreign Education Fair, each university has its own stall, you can interact with other students going to the same university or the same country and prepare a plan of action. Discuss with them when they plan to leave, what are their accommodation plans, how do they plan to commute to the university and much more.
Since the fair is a place where opportunity awaits you and the entire path of your career can just change in an instant, it is always advisable to come with your parents. When your parents interact with other parents whose children are traveling to the same university, they too can bond and stay connected.
Keep your roots strong
Going abroad is an expensive affair. You might get quite a few holidays but you won't be able to travel back and forth to India very easily again and again. When you come to the fair and come across other students who are going to the same country or same university, it will always become easier for you to send things across and receive things when any one of them is traveling back to your nation.
What's more, in our years of experience, we have found that students who bond right here before they actually set course for their educational travel do very well overseas. No matter where you go, Rao Education Fair will help you get there. The exposure that you will get here will also help you in a huge way to assist you even after you get there.
The journey is long but our counselors are right here for you.
A step in the right direction is half the battle won. By coming to the Rao Education fair, you will be able to access all the information you need first hand from the university representatives. You will also be able to see and observe what are the education trends, which destinations are more appropriate and what are the kinds of qualifications that you need to get there.
Take the first step and you'll find hundreds of others right there with you!