Introducing Rao Foreign Education Fair 2019!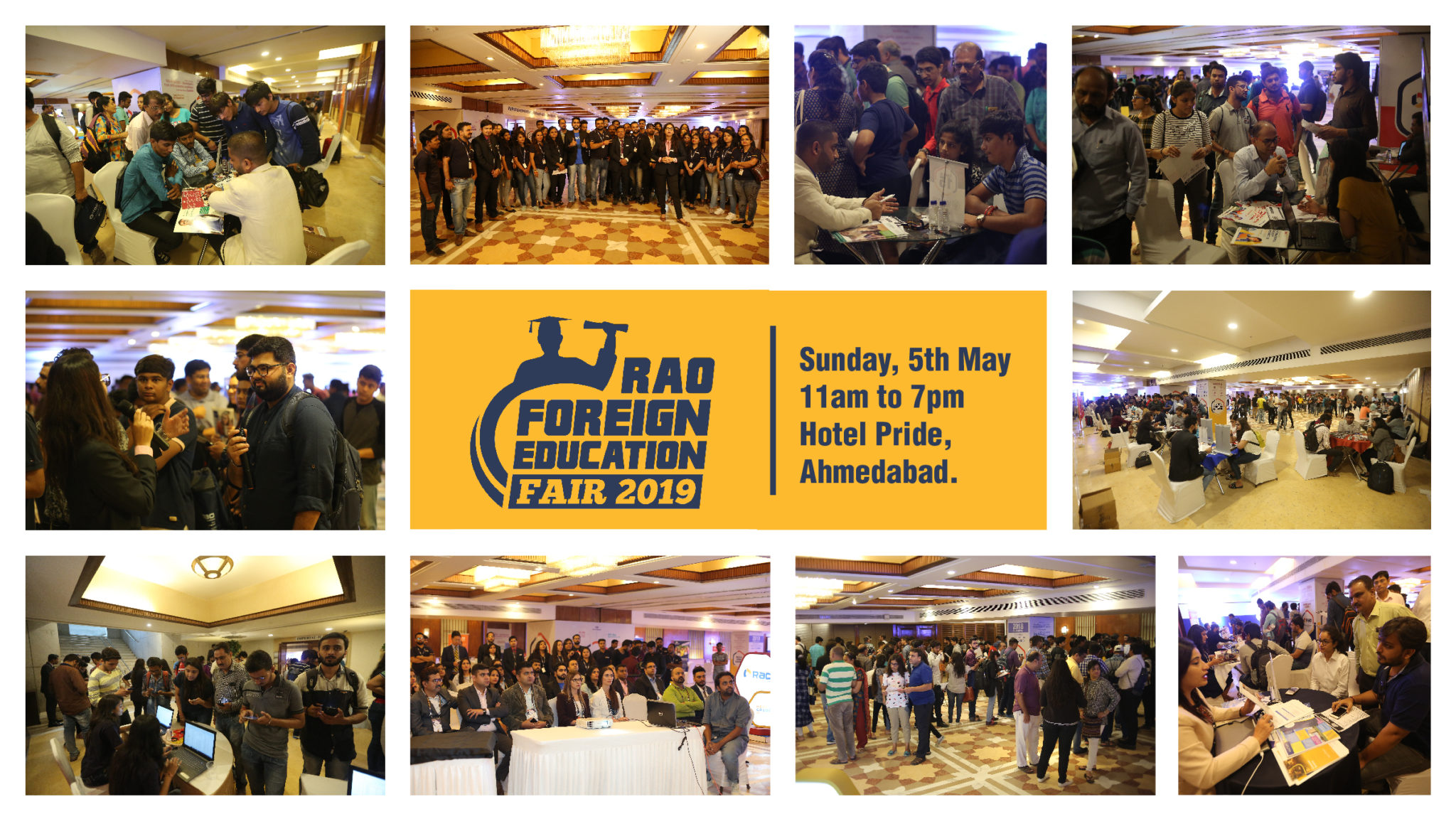 YEAH! Those of you dreaming of studying in your favorite university abroad, it's time to feel excited!! It's time to gear up for India's biggest foreign education fair!
Yes! The Rao Education Fair is back with a bang this year!
We, at Rao Consultants, have an aim to ease the initial process of selecting the right institute for you. Right from selecting the country, university and program of your choice, to understanding the admission criteria for your favorite university, Rao Education Fair, like last year, will help you achieve your dream successfully.
The Jaw-Dropping Experience of Rao Foreign Education Fair 2018
Last year, this event saw tremendous success. 45 universities from 16 countries participated in this edition. More than 800 students registered in the fair and got a chance to interact with the university delegates and got their doubts cleared.
Inspired by the success of the inaugural fair, we have organized the fair's 2nd edition in September 2018. It saw the participation of 71 universities from 12 countries and more than 2500 walk-ins and 1300 registered students.
We felt happy to serve path-breaking solutions to all our students.
Rao Foreign Education Fair 2019- the Foreign Education Extravaganza Is Getting Even Grander
Rao Foreign Education Fair 2019 – May Edition is expecting to see even larger participation of foreign universities and institute representatives than the last time.
Presented by the University of Tennessee at Chattanooga, Rao Foreign Education Fair 2019 is Ahmedabad's biggest foreign education fair for the intakes of 2019 and 2020.
How Will You Take Advantages in This Year's Rao Foreign Education Fair?
Applying for education abroad is a big investment, both financially and emotionally. You need to be crystal clear about your decision before making a move. From choosing the right career to preparing for the visa interview and pre-departure briefing, we guide you thoroughly at every step. You also get a range of value-added services to make your foreign education journey smoother.
Come to the fair with your parents or guardian.
From on-the-spot offers, application fee waivers, to scholarships and discounts for your respective universities, get ready to be loaded with many advantages this year!
You can grab the following benefits this year too. The benefits are:
Our well-experienced counselors provide practical solutions through unconditional, thorough and free advice to you.
Get to know about the right course, perfect for your career goals
Know the necessary financial documents
Select your country
Know your earning potential once you finish your study
Know the timing of moving with family
If you have completed your 12th exams or are currently pursuing a Master's degree, then:
Visit Rao Education Fair 2019 with your academic documents
Check your eligibility criteria for your favorite university or institute.
Plus, enjoy 100% cash back on consulting fees and get 5000 cash vouchers!
Which course is on your mind? Business? MBA? Computer Science? IT or Engineering? Stay updated with the new courses on offer in the top universities.
Wait! Have you talked to your parents and decided whether they are capable of paying the fees of your dream course? Once decided, our counselors will help you find the right course, based on the eligibility criteria. They will thoroughly assess your talent, academic parameters and financial profile.
Nowadays, who is not tired of paying an application fee every time you apply to a university!
Attend Rao Education Fair 2019 and get a chance to enroll in your favorite university at a concessional fee.
Are you serious about choosing the right course from the world's top universities? Rao Education Fair 2019 will be the perfect launch pad for you!
There are over 50 universities attending the first edition of the event. These Universities are coming to meet you with a plethora of opportunities to brighten your future. Know multiple University scholarship programs and choose from the ones that suit you the most.
Don't Miss On-The-Spot Offer:
Get a comprehensive range of services to fulfill your foreign education dreams.
Take a tour through some of the best universities on a global platform. Get to know instantly which university suits your requirements the best and then get an instant offer.
From country selection, university selection, IELTS coaching to application documentation, bank loan assistance, visa Interview preparation, pre-departure briefing, you will also get professional advice on other services.
If you are really passionate about foreign education, then this is the platform for you! Do not forget to come along with your parents and guardians. Register now to make those dreams come true. We will meet you at Rao Education Fair 2019 on 5th May at Hotel Pride, Ahmedabad.