Study In Canada: May Intake 2023
Posted by

Publish on

January 1, 2022

Updated on

September 19, 2022

Comments

0 comment

Total Views

13,904 views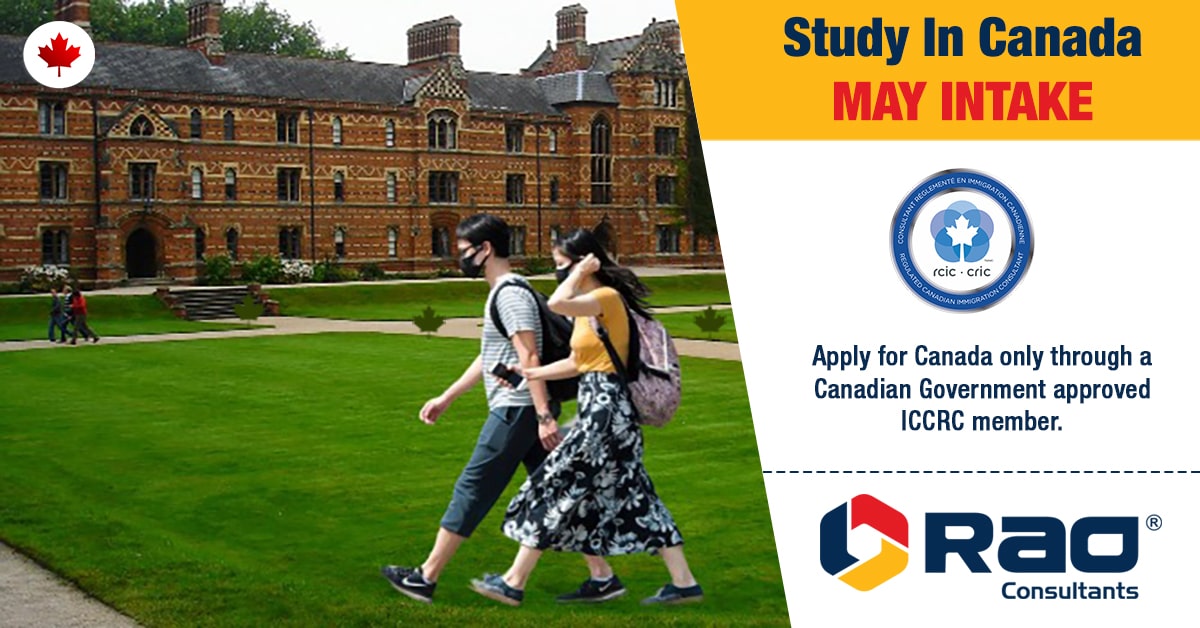 As the worldwide pandemic gradually becoming the new normal, students from across the globe are resuming their plans of studying abroad once again. If you planning to study in Canada and are scheduled for the next available May intake in 2023, you must be well-informed by reading this article. This blog will inform you about popular programs in Canada for May 2023 intake, When to apply for May 2023 intake in Canada, and all about the last dates to apply for May 2023 intake in Canada.
All about May Intake in Canada:
May Intake is similarly well-known as spring intake or summer intake in Canada. Usually, that opens in May. We shall discuss an effective timeline that you can follow or take inspiration from, to initiate your process for applying to colleges and universities in Canada.
Who Can Apply?
Education Qualification
The minimum qualification norm is to be a graduate with a 50% score from a UGC or AICTE recognized university. However, there are certain exceptions.
The graduation degree has to be completed within the specified time with no-year back.
The student should not have more than 10 backlogs in his/her graduation period (depending on course, college and category).
Why do International students love to study in Canada?
Canada essentially covers all the resources to help students to succeed whatever they have determined for a prosperous career. Here are some valued purposes for why students love to study in Canada! Let's look into the different factors and elements that you need to consider and complete for an efficient, effective, and stress-free admission process.
Canadian Universities offers Variations of Educational Programs:
In Canadian universities, you can apply to any field of education you can imagine. Universities offering several courses from Arts, Languages, History, to Management and Engineering. In modern times, some of the most popular study options where international students chose to enroll are Business, Environmental Science, Social Sciences, Engineering and Technology, Medicine.



Top 10 Universities in Canada

Based on QS World University Rankings: 2020

Name of the University

Canada Rank

Global Rank

University of Toronto

1

29

McGill University

2

35

University of British Columbia

3

51

University of Alberta

4

113

Université de Montréal

5

137

McMaster University

6

140

University of Waterloo

7

173

Western University

8

211

University of Calgary

9

233

Queen's University

10

239
Affordable Fees with World Class Education:
Education fees at Canadian universities are lesser than those from nations like the United Kingdom, the USA or Australia. University/Colleges' fees may vary annually, as you will notice differences depending on the province, city or selected program.
| | | |
| --- | --- | --- |
| Sr.no. | Study program | Average annual fee |
| 1 | Undergraduate program | $13,000 to $20,000 |
| 2 | Postgraduate master's degree | $17,000 to $25,000 |
| 3 | Doctoral degree | $7,000 to $15,000 |
| 4 | MBA | $30,000 to $40,000 |
Note: The cost of study may vary individually depending upon colleges, course duration, intake and scholarship availability.
Enormous Opportunities for Scholarships:
International students who want to study in Canada can avail plenty of scholarship opportunities from Canadian colleges or universities. The opportunities available to you will depend on your stream of study or research and your native country.
Types of Scholarships in Canada:
Canadian Government Scholarships: Offered by the government.
Non-Government Scholarships: Offered by various NGOs
Institutional Scholarships: Offered by universities or colleges in Canada.
Benchmarks to applying for scholarships in Canada:
Although, the overall eligibility will vary some general requirements that international students must keep in mind are:
Academic excellence: Most of the scholarships are merit-based, which means, financial support will be offered to meritorious students.
Language Proficiency: Since most international students do not have English as their first language, having better language skills or proficiency scores on IELTS exams.
Extracurricular Indulgence: This is often a case with stream specific scholarships, such as programs like social work, etc.
You can earn while you learn!
Yes! In Canada, international students have the right to work while they learning. You can work part-time (up to 20 hours per week) during school terms. If your program of study includes work experience, you may be able to work even more than 20 hours during the semester.
Can you call your Family in Canada?
Yes! You can call your family on a visitor visa while learning in Canada. They may be permitted to study or work in the country. Your spouse can also work full time while you are in Canada.
You can stay in Canada after Graduation!
Securing a Canadian student visa offers international students various opportunities to apply for permanent residency in Canada. If you want to remain in the country, you can become permanent residents applying through Post-Graduate Work Permit (PGWP).
Types of study programs
There are two main types of programs available in Canada
Undergraduate programs (UG)
Postgraduate programs (PG)
UG and PG courses further categorized into different types of courses such as:
Bachelor's Degree courses (4 years)
Master's Degree courses (1-2 years)
Diploma courses (1-3 years)
PG Diploma courses (1-2 years)
Certificate and Vocational training courses(1 year)
PhD programs
The topmost on-demand categories in engineering are:
Mechanical
Civil
Electrical-Electronics
Chemical
Industrial & Manufacturing
Engineering Management
The topmost on-demand job in IT are:
Information systems analysts and consultants
Database analysts and data administrators
Software engineers and designers
Computer programmers and interactive media developers
Web designers and developers
Dev-Op & Cyber Security Professionals
Post-Graduate Work Permit and Canada PR
Post-Graduate Work Permit (PGWP) is classically approved for the same duration as your studies in Canada. The program allows you to stay in Canada and work up to three years after your graduation. Working for one year in Canada, international graduates may be entitled to apply for permanent residency (Canada PR).
When should you apply for May 2023 intake in Canada?
For the May intake, you can start applying to Colleges in the months from October 2022 to December 2022. Most colleges in Canada will have their deadlines set in the month from October to February for May 2023 Intake. Though, you should be attentive to the university's website for any updates regarding your Intake.
Categories of student visa:
In Canada the learning organizations are allocated into three categories for a student visa:
SDS (Student Direct Stream) Category: In SDS Category the Academics requirements for a student visa is more than 55% in Last qualifications, whereas in IELTS you should have more than 6 bands overall with 6 bands in each section.
General Category: In General Category the minimum required percentages are 50% and In IELTS you should have more than 5.5/5 Band.
University Category: Under this Category, the students should have more than 60% in their last qualification. The necessities may vary as per the requirements of the University.
Important Stages to Study in May intake in Canada 2023
May Intake 2023 step 1:  – Start Now!
Choose the best colleges/

universities

most suitable

for you.
Note down the programs for you that best to your academic and career goals.
Ensure detailed inquiry on the list of colleges.
Each college has its specific deadlines for the May Intake for Canada in 2023, and that should be considered in your planning.
May Intake 2023 step 2: Appear for the Exams
Appear suitable exams as per your university requirements.
Prepare for essential exams like IELTS, two months before the test.
You should be taking your IELTS exam, depending on the course and university necessities
Be prepared for any unpredicted results, in case you want to retake for a better test result.
May Intake 2023 step 3: Start Applying to Colleges:
Search for May Intake colleges in Canada 2023, choose the colleges and Universities before the due dates for the particular institutes. Organize your final application.
Be alert and Apply before the due date.
Step 4: Letter of Acceptance and Interviews:
Do not delay in replying to the college once you received an email from the colleges. Colleges will email you after you apply for the courses.
If you are accepted into a college/university, make a quick decision.
Do not wait for the deadlines to reply, as some of the colleges follow a first come first serve strategy.
You should start preparing to interview as you may face it online.
Step 5: Apply for Student Visa and Education Loan:
Start the visa process: Soon after paid your admission fees, gather all the documents required for your student visa application and proceed further.
Apply for an education loan soon after receiving the letter of acceptance (LOA) as certain processes take time, and you should always consider that before planning for the timeline.
You can apply for an outside scholarship as well, as soon as you get the acceptance letter from the college/university.
Step 6: Be ready to Departure:
Now, you are almost equipped to fly! Book airline tickets.
Most program terms will start in early May, so it is logical to reach Canada before beginning the course.
Before takeoff, collect all the essential papers and their photocopies.
Secure an international Credit / Debit card before departure, and ensure you have clear every checkbox in your pre-departure checklist.
Canada Student Visa Requirements:
You will usually require the following documents for your CANADA Student Visa application:
Valid Passport
Verified copies of 10th, 12th and Degree certificates
Statement of Purpose (SOP)
Certificates of extracurricular achievements
An acceptance letter from your education institution
Evidence of payment
Evidence of financial funds
Passport size photographs
Study Permit and visa
English Aptitude (IELTS)
Additional requirements from your University
Post-Covid-19 Measures Taken in Canada:
Canada has put several measures to protect international students from the pandemic. The country has already begun vaccinating the citizens in high-risk classes. Post-coronavirus recovery actions include a two-stage study permit process and the ability to begin studies online, with this time counted towards the Post-Graduation Work Permit (PGWP). Meanwhile, IRCC has had already been starting procedures as quickly as possible.
International Students are covered under the Healthcare System:
Several provinces allow international students access to Canada's public healthcare system. All Canadian schools/Colleges provide health insurance policies for international students.
Two other intakes in case you missed the targeted one?
Apart from spring intake, there are two other intakes available for students in Canadian universities.
Fall intake: The Fall intake starts in September
Winter intake: Starts in January; it's best if you miss the September intake
The Climate in Canada:
Canadians enjoy four different seasons, mainly in the more populated provinces along the US border. The warm season lasts for 3.5 months, from June 1 to September 17, with an average daily extraordinary temperature of more than 68°F. The winter season lasts for 3.4 months, from December 2 to March 15, with a regular daily high temperature under 39°F.
Attentive for Deadline for May Intake Canada: 
The final dates to apply for May Intake are usually fall in February. Though, the dates may vary from college to college. Due to COVID-19, a certain flexibility in deadlines of the admission process is provided to the international students.
Conclusion:
The time is here! Studying in Canada is one of the most wonderful and life-changing experiences. Utmost colleges in Canada have a first come first basis admission policy for admission, and you have to start your application process as soon as possible. Awaken for the deadlines for May 2023 intake for Canada and jump accordingly.
How Rao Consultants can help you with the admission and visa process?
As an IRCC approved and primary study visa consultant in western India, We provide you free career forecasting and counseling. Our proficient team of career counselors assists you with an excellent and suitable study program based on your career choice. We provide you with end-to-end support for students seeking to study abroad.