Study in UK – 2022
Posted by

Publish on

January 1, 2022

Updated on

January 20, 2022

Comments

0 comment

Total Views

1,111 views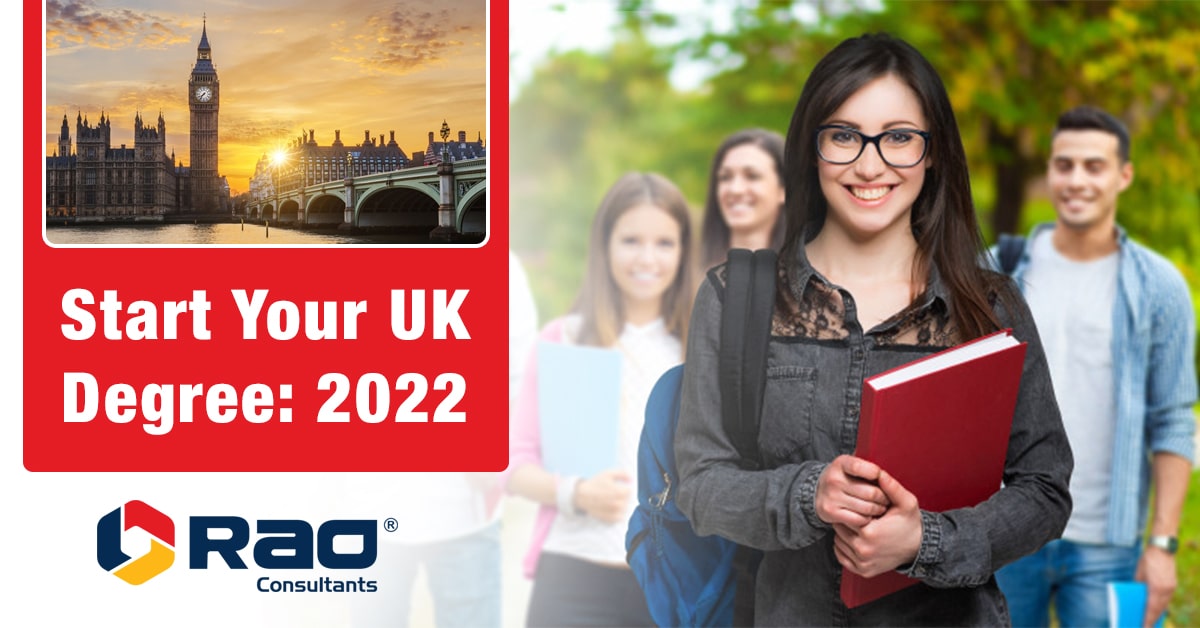 The UK is one of the best selections for learning as it is a boundless blend of societies from around the world. With a long and delighted history of academic distinction, it is student-friendly and among the cream of the crop in almost all segments.
Going to study in the UK is a great approach to expand your knowledge; you'll catch plenty of backing at institutes, and an opportunity to experience a great student lifestyle. Whatever your comforts, there's a massive variety of clubs and cultures, as well as a diverse social life on offer.
Benefits of Studying in the UK:
There are three types of benefits of studying in the UK. 1. Academic, 2. Financial and 3. Miscellaneous
Academic:
Degree from UK University is highly reputed internationally.

30% of UK university exploration is 'world-leading' and 46% is 'internationally excellent' categorized by the Research Excellence Framework.

UK universities are reviewed frequently by QAA to evaluate the ethics of teaching, learning and research to guarantee that set benchmarks are met.

The education system in the UK is the best for law, sciences, management and humanities.

Over 395 universities and colleges that offering over 50,000 UG/PG courses, you can learn whatever you decide.

UK universities have the finest research and teaching facilities.

Highest Student Satisfaction Rating.

Interactive and extremely relevant teaching to the industry with an emphasis on practical knowledge and skills-based methodology.

You can expand your knowledge at the largest library in the world.
Financial:
Numerous scholarships are offered by many organizations and universities.

Affordable housing alternatives, hostels and home-stays are also available.

Part-time work is also allowed while studying in certain colleges.

You can stay in the UK after completing graduation if you hold an employment offer.

Multiple job options across the world.
Miscellaneous:
You can receive free medical treatment by the National Health Service (NHS) if enrolled in a full-time course.

The UK is a unique country as thousands of families from around the world reside here, which offers you a multicultural atmosphere.

In the United Kingdom, you can travel to Scotland, Wales, and Northern Ireland and acquire around the diverse upbringings and lifestyles in each nation.

A student can receive distinctive rates for transportation when you buy passes.

In the UK, you will be as safe as at your home.
Popular Degree Streams in the UK:
Business
Natural Sciences
Engineering and Technology
Medicine
Law
Social Sciences
Sports Science
Media and Communication
Arts
Hospitality and Tourism
Eligibility:
The projected academic requirement is a minimum of 60% GPA in higher secondary to become registered in humanities or arts programs. For science courses, the lowest 70% GPA is essential. You can speak to our counselor for an eligibility check.
Which is the Best Intake to Study in the UK?
The UK universities have multiple intakes but 2 are more popular intakes; Autumn Intake and Spring Intake. The highest intake periods are September/October and January/February in the UK.
Autumn intake: Considered as the main intake, autumn intake occurs in September/October.

Spring intake: More like a secondary intake Spring intakes in the UK occurs during January/February. If you are opting for spring intake, take into concern the UK weather and arrange accordingly.

Summer intake: An additional intake offered by some institutions occurs during May. Remember that the application deadlines for summer intakes will end a couple of months ahead of the intake month.
| | | |
| --- | --- | --- |
| Top 10 Universities in the UK | Global Rankings | UK Rankings |
| University of Oxford | 5 | 1 |
| University of Cambridge | 7 | 2 |
| Imperial College London | 8 | 3 |
| UCL (University College London) | 10 | 4 |
| University of Edinburgh | 20 | 5 |
| The University of Manchester | 27= | 6 |
| King's College London (KCL) | 31= | 7 |
| London School of Economics and Political Science (LSE) | 49 | 8 |
| University of Bristol | 58 | 9 |
| The University of Warwick | 62 | 10 |
Source: QS World University Rankings 2021
Scholarships Available for Indian Students:
If you are an Indian student looking for breaks to study overseas, then you can be offered international scholarships by numerous governments, organizations and specific universities.
Government-funded UK scholarships for international students:
British Chevening Scholarships 

– The scholarships offer full or part money for full-time graduate programs.

Commonwealth Scholarships for Developing Commonwealth Countries 

– The scholarships for worldwide students from evolving countries in the Commonwealth.

Commonwealth Shared Scholarship Scheme at UK Universities

– The scholarships for global students undertaking qualified master's programs.

Marshall Scholarships – The scholarships for US students presenting academic merit, leadership potential and ambassadorial potential to learning in the UK.
IELTS Score Required to Study in the UK:
Studying in one of the world's top 200 universities in the UK required a rigid score. The least requirements for IELTS skills as hereunder.
 

Courses

English Requirement

UG Programs

IELTS 6 (5.5)

PG Programs

IELTS 6.5 (5.5)
Some colleges are accepting 6(5.5) for PG programs, while some are accepting without IELTS. They accept the students based on the last 3 years' study medium and results.
Required Documents to University Application:
The official papers commonly required for an application are as follows however, the requirements may vary according to your college and course:
The latest CV
Valid Passport
IELTS Certificate
Copies of degree/diploma certificates
Academic transcripts
Statement of Purpose (SOP)
Letters of Reference (LOR)
How to Start the Student Visa Process?
If you have decided to study in the UK, the next step is to learn about the application process, exploring universities and documents required for entry.
Important steps to study in the UK:
Research of course & University and select the perfect one for you

Get your documents ready accordingly

Initiate application to university

Get your student visa

Pay your application fee

Check your accommodation in the UK

Book the tickets and all set to go!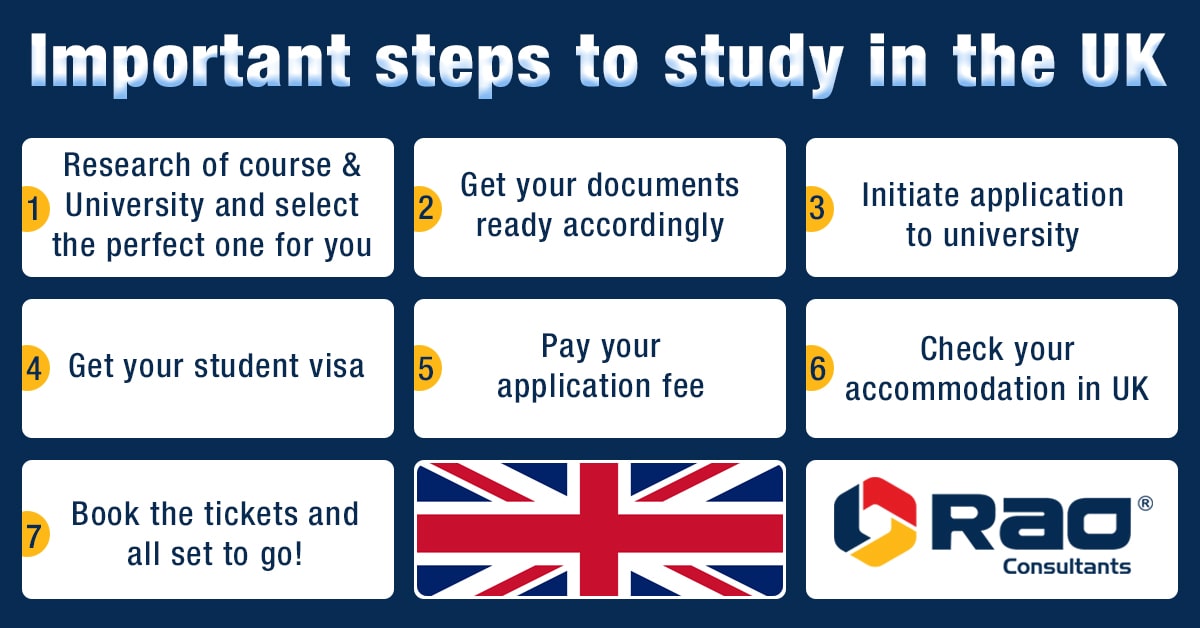 Appreciate the Life-time Experience in the UK:
The UK offers a treasure-trove of places to visit for fearless explorers. Several standard places to visit in London are Windsor Castle, London Zoo, London Bridge, The Tower of London, Madame Tussauds Wax Museum, Saint Paul's Cathedral and many more.
How Can You Get PR for the UK after Study?
Upon completing your education, you could get a full-time job. After 5 years of working, you can apply for the 'indefinite leave to remain' ILR Visa which provides you the 'permanent resident' status. You will also require to pass the Knowledge of Life in the UK test and a recognized English Language test.
Summary:
If you want to expand your horizons and gain worldwide exposure, you must explore the UK as a popular abroad study destination. Over the years immigration has altered the expression of the UK. The excellent educational set-up, top-notch eminent teaching system, quality research, rich heritage, and diverse culture of the UK make it a wonderful place to study. You can also avail the benefits of scholarships, a part-time job and PR for the UK after your student visa.
Get Ready to Succeed!
To know more about UK student & Health and Care Visa or any further assistance in your Visa Application, you can reach us on below-given details. Good luck with your applications!