A Complete Guide To Study In Germany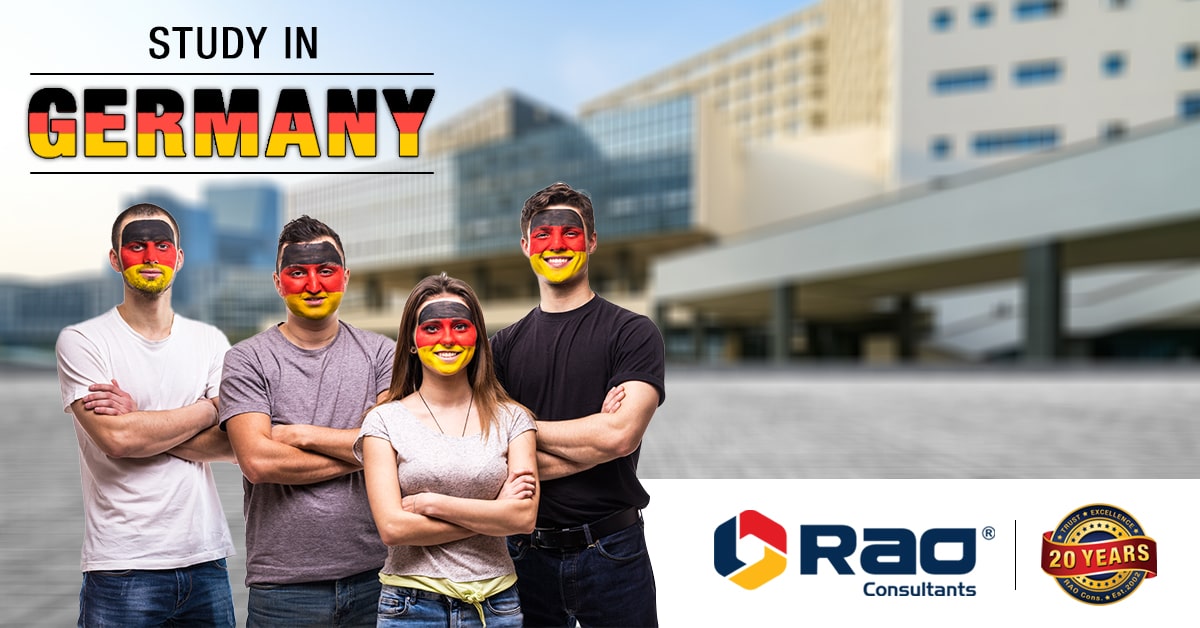 Germany is emerging as a new hotspot for international education among students all over the world. Going by the Federal Republic Statistic Office data for the year 2020, German universities and colleges have approximately 7 million students studying with them which has risen by 3.1 % in comparison with the previous year. It stands on the fourth position when it comes to being on the list of the most preferred countries for foreign education. There are reasons aplenty that are accountable for this amount of popularity.
Reasons to study in Germany
Owing to its world renowned universities, insightful history, art museums and sprightly night life, enormous number of international students are choosing Germany to pursue their qualifications which is increasing with each passing day.
German degrees hold immense accreditation from recruiters all across the globe. The country has 400 plus higher education universities with more than 19,000 diverse study programs. This huge spectrum of programs includes courses such as Medicine, Management, PhDs, Engineering, Robotics, etc. to name a few. Moreover, a new and advanced international study program is introduced every year into the curriculum. On top of this all, both German and foreign students since 2014 have been paying only a minor amount of semester fee making the study programs practically free.
Top 10 universities to study in Germany
You will be pleased to know that below mentioned ten of the German universities are among the top 100 universities world-wide as ranked by QS World University Rankings, also published by the Times Higher Education (THE) magazine.
Technical University of Munich
Ludwig Maximilian University of Munich
Ruprecht Karl University of Heidelberg
Humboldt University of Berlin
KIT, Karlsruhe Institute of Technology
Free University of Berlin
RWTH Aachen University
Berlin Institute of Technology
Eberhard Karls University of Tubingen
Albert Ludwig University of Freiburg
Broad Spectrum of Study Programmes
Due to abundant, affordable and top-ranked universities in Germany, fortunately, there is a wide range of study programmes for each one of you irrespective of the level of education you are at. These programmes include:
1) Engineering:
Drawing approximately 25% of foreign students or above 70,000 international students towards Germany, Engineering course is substantially one of the most popular programmes to study in Germany. Various streams of engineering that you can apply for are automotive engineering, Mechanical engineering, Electrical engineering, and Automobile engineering amongst many others. Technical University of Munich, RWTH AACHEN and Karlsruhe Institute of Technology rank highest in almost every branch of engineering in the country. Furthermore, Germany's automotive industry is perchance the largest employment provider in the country with a labour force of more than 70,000.
2) Business Management:
Not too far behind engineering, management studies probably secure the second position amid the best courses to study in Germany. Conferring to foremost FT and QS rankings, Germany is not only known for its full-time MBA programmes but also holds a strong position in offering top class executive MBA courses. Some of the best business schools to take up MBA courses in Germany are Ludwig Maximilian University of Munich, RWTH Aachen University, and WHU-Otto Beisheim School of Management.
3) MBBS:
Germany takes immense honour in being considered to have a very modern yet internationally esteemed medical system and is home to some of the best medical schools worldwide too. Nonetheless, opting for a MBBS course to study in Germany is anything but pricey along with higher quality education. This attributes to making the country one of the most desirable choices among medicos across the globe. Since the MBBS course in Germany is delivered in German language, it becomes mandatory for international students to have a knack of it beforehand. Consider top universities like Heidelberg University, RWTH Aachen University, Witten/Herdecke University, Magdeburg University and few more while enrolling in to a medical course in Germany.
4) PhD:
Contrary to the conception that procuring a PhD in Germany for international students is complicated, it rather is not. Recent admission data reveals that nearly 3, 80,000 students are pursuing their PhD degrees in Germany which includes around 10% foreign students. More so, Indian students make the second most group of foreign students to study in Germany for PhD courses. PhD students require a well-structured atmosphere in order to obtain an enriching experience with respect to their studies. World-class education standards, seasoned faculties, state-of-art infrastructure facilities, special emphasis on practise are few of the requisites for PhD students. Unlike medical courses, PhD courses are taught in English. Universities like LMU Munich, Technical University of Munich, Heidelberg University, Humboldt University of Berlin and University of Freiburg are the five best ones you must aim for your PhD studies in Germany.
5) Computer Science:
Computer science course is one of the most prevalent and coveted courses to study in Germany as the country is considered to be one of the world's foremost book homelands. Many German universities offering computer science studies are ranked among the best universities globally. This field of study comes with higher employment opportunities.  Renowned German universities for Computer science course are Technical University of Munich, RWTH Aachen University, Karlsruhe Institute of Technology, Technical University of Berlin, LMU Munich, University of Freiburg, Technical University of Darmstadt, Heidelberg University, University of Bonn and Friedrich-Alexander University of Erlangen-Nuremberg.
6) Masters in Data Science:
Despite being quite challenging, data science is a stream worth considering. It is contemplated as the occupation of tomorrow. In the current world of cutting edge technology, we are in dire need of professionals who can manage to work out intricate statistical data. This has created umpteen opportunities for those who want to study masters in data science. Carrying out masters in data science in Germany is undoubtedly the best choice as the subject is pretty innovative and requires up to date methods and settings which German universities are well equipped with.  Some of the best data science universities in Germany include: Technical University Munich, Ludwig Maximilians University Munchen, University of Magdeburg, TU Dortmund, University of Mannheim, University of Hildesheim, University of Applied Sciences Darmstadt and University of Gottingen.
7) Master's Degree (MS courses):
There are prospects galore for those who aspire to take up MS courses to study in Germany. The universities offer a wide range of master's degree courses that are imparted in English language with extremely reasonable cost and award-winning prospectuses. They give immense importance to students' hands-on experience and are undeniably the ones with brilliant future prospects.  It is a wonderful opportunity for international students to contribute towards the country's remarkable academic records by selecting to study masters in Germany. Top universities offering Masters in Germany are Technical University of Munich, Ruprecht-Karls University Heidelberg, Ludwig-Maximilians University Munchen, Humboldt University of Berlin, Technical University of Berlin and few more.
7 Best German Scholarships for Indian Students
Apart from being famous for its high quality education, world class universities, rich history and vivacious culture, Germany is very well known for its excellent scholarship programs too. International students have a chance to choose programs of their interest with negligible tuition fee and low accommodation cost. Here's a list of top 7 German scholarships for Indian students:
1) DAAD WISE Scholarship Program
College students studying either bachelors or integrated/dual programs from specific Indian universities are allowed to apply for this scholarship in various faculties like Engineering, Natural Sciences and Mathematics, etc. DAAD scholarships are the most popular among others that covers 750 euros as living expense and 1075 euros as travel and health insurance costs for students.
2) Konrad-Adenauer-Stiftung scholarship
This Scholarship is for those having finished the bachelor's /Master's degree in their base country and planning to pursue higher studies in Germany. It also considers students with doctorate degrees and focuses more on students with keen interest in politics. The scholarship can be either reimbursement of tuition fee up to 500 euros or a monthly stipend of 1100 euros for 3 years and is mainly for students hailing from developing countries.
3) Heinrich Boll Scholarship
This program is for international students who have passed their university entrance exam and have selected any subject from the scholarship's Master' or PhD courses. The amount offered for Master's courses is 850 euros every month alongside extra allowances. For PhD courses, the amount offered is 1000 euros per month with additional 100 euros for travel expense.
4) Kofi Annan MBA scholarship
This particular scholarship offering a 2 year Masters in Management course or a 1 year full-time MBA course requires the foreign students to have completed their bachelors with high academic score. They are also required to have English language proficiency and a strong yearning to contribute towards the growth of their home country. Few candidate get advantage of full tuition fee worth 25000 euros for MIM and 43000 euros for MBA courses. It also assists with other services like visa, transport, accommodation, insurance and networking.
5) ESMT Women's Academic scholarship
This scholarship program invites female students from all across the world applying for a full-time MBA course in European School of Management and Technology (EST). The requirement to avail this scholarship is to have a minimum score of 700 in GMAT exam and the selection is based on the essay which is submitted at the time of application. The value of this scholarship is 15,000 euros.
6) Goethe Goes Global Scholarship
The primary purpose of this scholarship program is to augment and back the career of the students. It is an novel project especially for Master's studies allowing shortlisted candidates to pursue their studies at the Goethe University in Germany. Around 20 scholarships are provided each year for foreign students who have successfully done their bachelor's. The value of the scholarship is 1000 euros per month until course completion.
7) EMS Undergraduate Scholarship
EMS, The European Management School, proposes this scholarship program to those who want to attain a Bachelor's degree in Germany. The aspiring students must have an outstanding academic as well as social achievements track record from their schools. This program basically eases the undergrads towards their professional career ahead leading them to gain a respectable business designation in Germany and other countries too. It offers 50% discount on the tuition fee alongside a global exposure to enhance the students' persona.
Frequently Asked Questions:
Q:Do I need to take IELTS or TOEFL test in order to take up an English-delivered program?
Ans: Unless you are a native speaker, you will need appear for either TOEFL or IELTS test to study in Germany. However, if you have already finished an undergraduate degree in an English-taught course and are applying for a post graduate degree, you will not require to pass any of the two exams.
Q:Is it allowed for international students to work while studying in Germany?
Ans: Part-time work is allowed while you are pursuing a full-time course in Germany. The working days are restricted to 120 days of full time work or 240 days of part time work. But, you cannot be self-employed or do any free lancing work while you are working during the legally permitted time duration. Nevertheless, if you are a full time student from member states of the EU/EEA, you can work for 20 hours max per week.
Q:Do I have to learn German language if my study course is in English?
Ans: If your entire study program is going to be delivered in English, then it is absolutely not necessary for you to be proficient at German Language.
Conclusion:
This article sums up almost everything that you need to know if you wish to study in Germany for graduation or post-graduation courses in variety of streams. In addition, it also gives you an insight in to the basic information about the culture, infrastructure, night life, medical facilities of the country and more importantly about the top most German universities recognised and ranked globally along with the best scholarship programs which you can take the advantage of. I hope this helps. Good luck on your decision to Study in Germany!
*All the Statistical data provided in the article is with reference to the information available on the Internet