Best Courses to Pursue Abroad after B.Com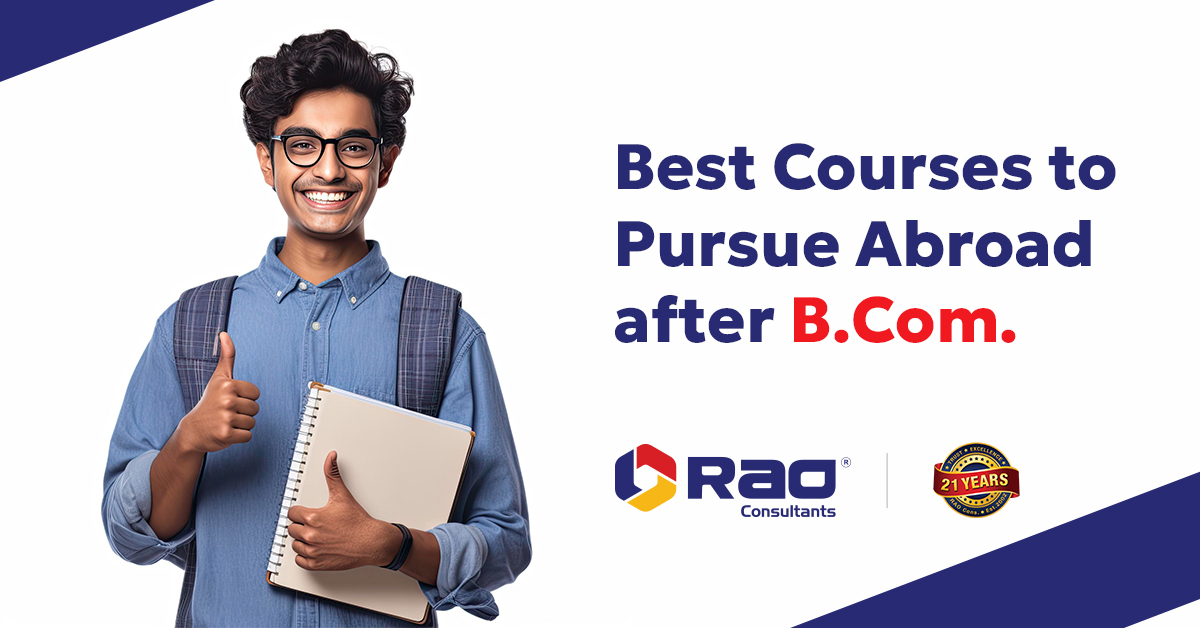 The world is evolving at a breakneck pace, and the job market is no exception. New technologies continually emerge, and businesses must adapt to meet evolving customer needs. Consequently, employers seek different skills and knowledge in job candidates. For B.Com graduates, this underscores the importance of selecting a course that equips them with the necessary skills to succeed in today's dynamic workplace. The courses listed above are highly esteemed and offer significant earning potential and career growth opportunities.
However, when choosing a course, don't solely focus on earning potential. Consider your interests and career objectives. What are your aspirations? What truly excites you? Opt for a course that aligns with your career goals and ignites your passion.
Here are several compelling reasons why you should contemplate pursuing a degree in an emerging field:
High Earning Potential: B.Com graduates with advanced degrees in emerging fields often command significantly higher salaries. For instance, the median annual salary for a Master of Data Science graduate exceeds $100,000.
Increased Job Opportunities: The demand for skilled professionals in emerging fields is skyrocketing, translating into a plethora of job opportunities for graduates in these areas.
Exciting and Rewarding Work: Emerging fields are at the forefront of innovation and discovery. If you're passionate about tackling complex problems and making a real impact, a degree in an emerging field will offer precisely that opportunity.
Moreover, pursuing a degree in an emerging field can provide a competitive edge in the global job market. As companies expand internationally, they actively seek employees with expertise in these cutting-edge areas.
If you're a B.Com graduate eager to embark on a journey into an emerging field, here's how you can get started:
Research: Spend time exploring various emerging fields to identify one that resonates with your interests and aspirations.
University Selection: Once you've decided on a field, research universities and programs that offer degrees in that specific domain.
By pursuing a degree in an emerging field, you're not just shaping your future for success; you're also making a meaningful impact on the world. The world is teeming with exciting opportunities, and pursuing further education abroad can open the door to a world of possibilities.
Now, let's delve into some of the best courses to consider after your B.Com:
Master of Business Administration (MBA):
An MBA equips you with in-depth knowledge of business management and leadership.
Consider esteemed institutions like Harvard, Stanford, INSEAD, or London Business School for enhanced career prospects.
Master of Finance:
For those inclined toward finance, a Master of Finance offers a rigorous curriculum and global networking opportunities, as exemplified by the University of Oxford.
Master of International Business (MIB):
In our increasingly globalized world, understanding international business is paramount.
Programs like the one at Hult International Business School can provide valuable insights into the complexities of global commerce.
Master of Economics:
For economics enthusiasts, a Master of Economics paves the way for careers in research, policy analysis, and academia.
Institutions like the University of Chicago and the London School of Economics are renowned for their economics programs.
Master of Marketing:
Marketing is an ever-evolving field, and a Master of Marketing equips you with the latest strategies and techniques.
Consider top-notch marketing programs offered by schools like Northwestern University's Kellogg School of Management.
Master of Entrepreneurship:
If you dream of starting your own business or joining a startup, a Master of Entrepreneurship can provide you with the tools, knowledge, and network to turn your entrepreneurial vision into reality.
Stanford University's Graduate School of Business offers a renowned program in this field.
Master of International Finance:
For those interested in global finance and banking, a Master of International Finance can be your gateway to a successful international career.
Programs at institutions like the University of Amsterdam are highly regarded in this area.
Emerging Fields and Their Potential:
Accounting:
Data Analytics and Visualization: Accountants with data analytics and visualization skills are in high demand, with an average salary of $71,000 per year in the US.
Forensic Accounting: Forensic accountants investigate financial crimes and earn an average salary of $80,000 per year in the US.
Information Systems Auditing: Information systems auditors evaluate the security and controls of computer systems and networks, with an average salary of $85,000 per year in the US.
Sustainability Accounting: Sustainability accountants help businesses measure and report on their environmental and social performance, earning an average salary of $90,000 per year in the US.
Finance:
Financial Technology (Fintech): Fintech professionals with an average salary of $120,000 per year in the US are reshaping the financial industry.
Investment Banking: Investment bankers advise companies on raising capital and mergers and acquisitions, with an average salary of $150,000 per year in the US.
Private Equity: Private equity firms invest in private companies with the goal of growing them and selling them for a profit, with an average salary of $175,000 per year for a private equity associate in the US.
Venture Capital: Venture capital firms invest in early-stage start-ups, with an average salary of $200,000 per year for a venture capital associate in the US.
Digital Marketing:
Content Marketing: Content marketers create valuable content to engage their target audience, with an average salary of $75,000 per year in the US.
Data-Driven Marketing: Data-driven marketers use data to inform marketing decisions and earn an average salary of $85,000 per year in the US.
Inbound Marketing: Inbound marketers focus on attracting and engaging customers through valuable content, with an average salary of $70,000 per year in the US.
Search Engine Optimization (SEO): SEO professionals optimize websites for higher search engine rankings, utilizing techniques like keyword research and content optimization.
Earning Potential and Career Advancement
The earning potential and career advancement opportunities after completing study abroad programs in foreign countries, your earning potential and career advancement can significantly vary based on your chosen field. Graduates with a Master of Business Administration (MBA) from prestigious institutions can command six-figure salaries and leadership roles in multinational companies. In finance and economics, a master's degree can open doors to well-paying positions as financial analysts, investment bankers, or economists in government agencies and research institutions. International business graduates often find opportunities with competitive compensation in global corporations and trade organizations. Those in marketing and entrepreneurship can achieve respectable income levels, with marketers pursuing marketing management roles. International finance and emerging fields like data science offer competitive salaries. The actual earning potential depends on location, industry, experience, and personal skills, making it crucial to research specific fields and regions while also networking and seeking internships to further your career.
Shaping Your Future
The world is your oyster after completing a B.Com degree. By choosing the right path and specializing in a field that aligns with your interests and career goals, you can shape a bright and rewarding future. Consider your passion, the current job market, and your personal circumstances as you embark on this exciting journey. Study Abroad Consultants can also broaden your horizons, making you a more adaptable and culturally aware professional.