British Columbia Welcomes 195 New Immigrants in PNP Draw
Canada's westernmost province, British Columbia (B.C) issued 195 invitations to apply for Canada PR, to Skilled Worker and International Graduate candidates. In the latest draw held on January 19, BC PNP targeted applicants from different categories specifically Skilled Worker, International Graduate, and Entry Level and Semi-skilled worker. The lowest score for this draw varied subject to the subdivision and ranged between 80 and 106 points.
BC PNP has invited 443 immigration candidates to apply for a nomination so far in 2021.
The Breakdown of the Subcategories: 
Skills Immigration: Skilled Worker: 96

Skills Immigration: International Graduate: 96

Skills Immigration Entry-Level and Semi-Skilled: 80

Express Entry BC: Skilled Worker: 106

Express Entry BC: International Graduate: 103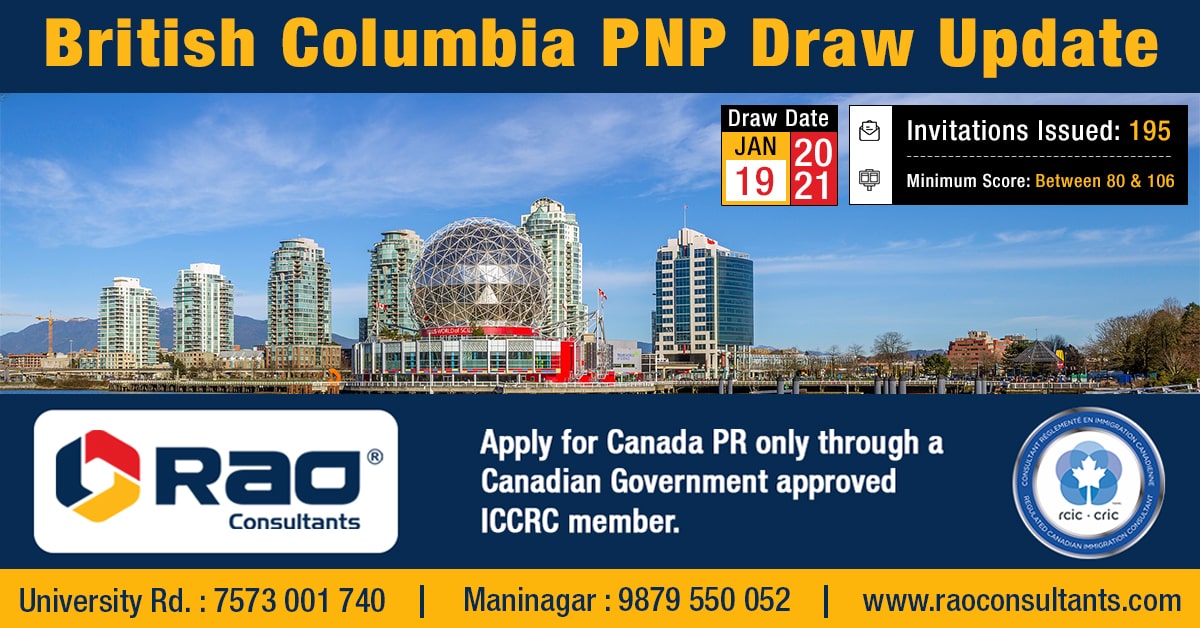 Note: Those who got invitations have 30 calendar days from the date of invitation to file a complete application. The ITA received doesn't assure a nomination for the applicants.
Why British Columbia (B.C.) in Canada?
British Columbia (B.C.) is one of the most engaging spots to settle in Canada. There are abundant explanations that make B.C. an absolutely attractive area to work, education and life.
High Standard of Living

: Canada is one of the world's best nations to live in.

Excellent Health Care:

Canadian citizens are allowed to access all the benefits of free medical services.

Competitive Wages and benefits:

Owners in BC provide employees with prolonged advantages and tactics, along with complete medicinal and dental treatment options.

Diverse Culture

: Folks from several societies call B.C. their home, Multiculturalism invites people throughout the world.

Rich Cultural Heritage: 

Around 200,000 ethnic people have been living in B.C within the unique geography of the province for over 10,000 years.

Range of Workplaces and Industries:

You can have multiple choices of workplaces in B.C including horticulture, development, ranger service, wellbeing and assembling.

Safety in B.C.: Lowest corruption rates and practical guiding principles make B.C. the most secure place to live.