Canada's October 2023 Minimum Wage Revolution: Six Provinces, Six Rates, What's Behind the Diversity?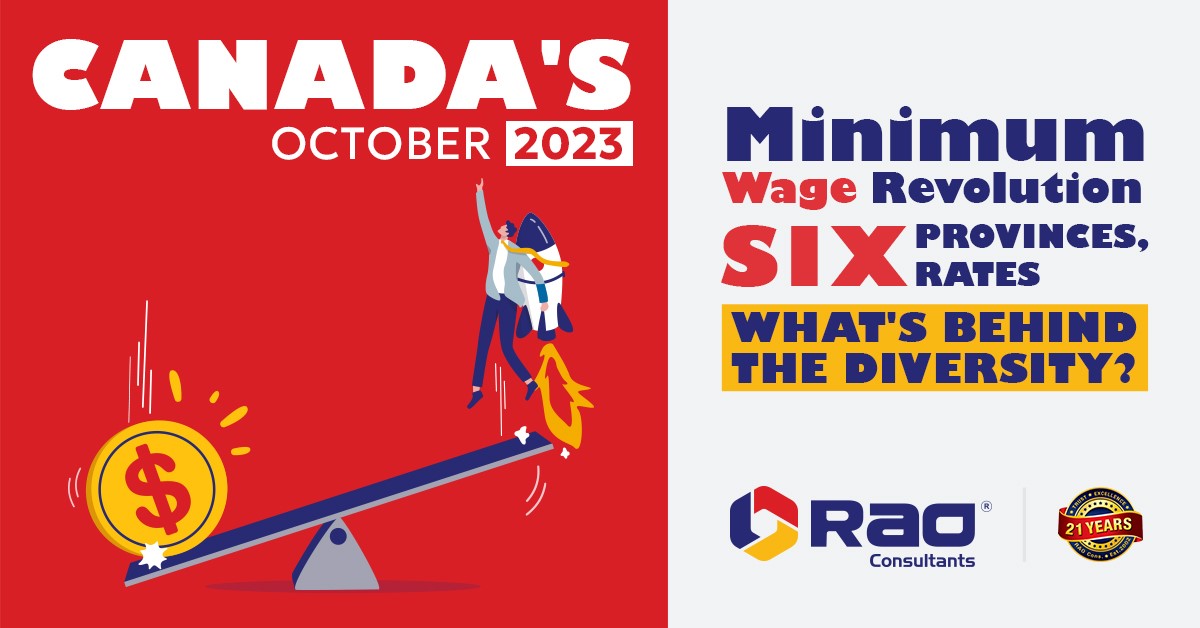 In the vast expanse of Canada, a nation celebrated for its inclusivity and open embrace of diversity, a transformative wave is sweeping across the country. The message is clear: a commitment to improving the lives of working Canadians and an invitation to those who dream of making this land their home. In this article, we delve into the heart of this significant development: the increase in minimum wage rates across multiple provinces, a move that not only uplifts the living standards of its citizens but also beckons newcomers with the promise of a brighter future.
Minimum Wage Increase: A Step Towards Economic Growth.
At the dawn of a new month, the federal minimum wage in Canada rose from $15.55 to $16.65, a stride forward for over 26,000 working Canadians whose hourly earnings fell short of the previous benchmark. This hike symbolises the government's unwavering commitment to fair compensation and the reduction of income inequality.
But the federal move is not solitary; it's part of a synchronised effort across provinces, all set to raise their minimum wage rates on October 1. This collective action strives to foster economic growth and pave the way to a more equitable society. Now, let's look at how this increase will impact several provinces.

Ontario: Empowering Workers, Strengthening Communities
Ontario, a province bustling with life and opportunity, will witness an increase in its minimum wage from $15.50 to $16.65. This is a testament to the government's dedication to workers' empowerment and financial well-being. It's a stride toward improving the quality of life for Ontarians and contributing to the province's overall economic prosperity.
Manitoba: Promoting Fair Wages and Inclusive Growth
In the heart of Manitoba, known for its diverse workforce and vibrant communities, the minimum wage will rise from $14.15 to $15.30. This reflects the province's commitment to fair wages and an inclusive approach to growth. By offering better compensation to workers, Manitoba aims to attract skilled professionals to contribute to its thriving economy.
Saskatchewan, Nova Scotia, Newfoundland and Labrador, and Prince Edward Island (PEI): Ensuring a Brighter Future
These provinces are also set to increase their minimum wage rates, with Saskatchewan at $14.00, Nova Scotia and Newfoundland and Labrador at $15.00, and PEI at $15.00. These changes are a promise to build a brighter future for their residents. Competitive wages aim to retain local talent, draw in skilled immigrants, and create an environment where businesses can flourish.
Note: Saskatchewan is set to raise its minimum wage again in October 2024, going from $14.00 to $15.00 per hour, reinforcing its commitment to fair compensation and economic development.
Impact on Immigration
Canada remains steadfast in its commitment to welcoming immigrants amid recent diplomatic disputes. The nation recognises that immigration strengthens its economy and secures long-term growth. Increasing minimum wage rates across provinces reiterates Canada's reputation as a land of opportunities.
Conclusion:
The surge in minimum wage rates in Canada, both federally and provincially, marks a substantial stride toward creating a more equitable and inclusive society. It uplifts working Canadians' lives and sends a compelling message to those contemplating a future in Canada. With improved wages and higher living standards, Canada is an appealing destination for those seeking a better tomorrow.
As Canada continues to embrace immigrants, it reaffirms its dedication to diversity, inclusivity, and economic prosperity. The minimum wage increase reflects Canada's progressive policies and determination to build a prosperous nation.
CTA: Learn more about Canada's immigration process and how to make this land your home.
Please note that this article serves as informational guidance and does not constitute legal advice. For precise, up-to-date immigration information, consulting official government sources is recommended.
SCOPE FOR INTERLINKING