CELPIP could improve your CRS score while applying for Canada PR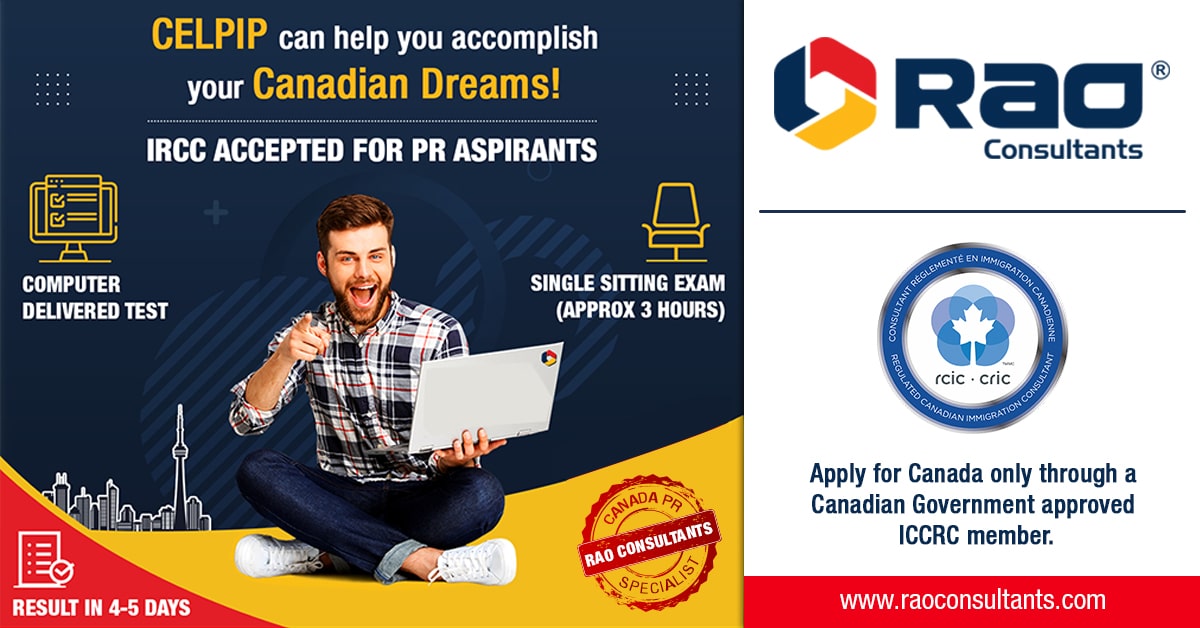 CELPIP Coaching Centre In Ahmedabad
First thing that comes to one's mind when a person thinks of immigrating to another country is the language proficiency. Although some countries accept proficiency in other languages like French but English language proficiency is a basic requirement for immigration across most of the Western countries. IELTS score is accepted as a standard benchmark for immigration by many countries that are also popular tourist destinations like the US, UK and Canada.
Canada is one of the top immigration destinations with its friendly policies and ever-growing opportunities. Not to mention, the higher standard of living as well as the natural beauty are the additional perks of this country. This vast country invites thousands of immigrants each year. The invitations are mainly through Student Visa and Permanent Residency Visa. Also, a person with Canada PR Visa who has been working in the country for required number of years can apply for Canadian Citizenship.
However, Canada has specific English language tests if the immigrant is applying for Permanent Residency or Citizenship. This test is called the CELPIP examination.
What is CELPIP Test?
CELPIP or the Canadian English Language Proficiency Index Program is launched by the Immigration, Refugees and Citizenship Canada (IRCC). This test comprises of four modules that are respectively required for Canada Permanent Resident Status and Canadian Citizenship.  There are 2 categories of this examination which you can choose upon your requirement are:
CELPIP-General – For Permanent Resident Status
CELPIP-General LS – For Canadian Citizenship
In order to pass any of these modules, the immigrant must have a higher level of proficiency in English language which is complex as compared to IELTS. Hence, it is advisable for aspiring applicant to seek proper and reliable guidance to gain good score in this test.
Rao Consultants is one of the leading Canada Immigration & Foreign Education Consultant in India, providing CELPIP coaching for immigrants, encouraging them to set higher goals to improve their status. We offer high-quality CELPIP coaching throughout the year.
Why Choose Rao Consultants For CELPIP Coaching?
Passing the CELPIP tests is essential to get Permanent Residency or Canadian Citizenship. It might look like a simple task but knowing the language and being able to communicate well is not the same as passing an exam. In order to pass the set English tests, the applicant must gain a good level of understanding of the language and also achieve a certain level of fluency in speaking. A person requires appropriate understanding of the course and the method that the test uses. The applicant must know the 'dos' and 'don'ts' for cracking the exams.
Rao Consultants, with its two decades of experience and expertise in preparing immigrants, has designed a specific syllabus that helps applicants to pass CELPIP test with flying colours. We provide methodical CELPIP coaching in Ahmedabad, where we are headquartered. We have trained people from outside the city as well.
Some of the key features of our CELPIP Coaching Program are:
Precisely designed syllabus that is easy to follow and understand
Expert coaches with high credentials and experience
Group activities, speaking practices and personal attention
Gain proper understanding of CELPIP Score Calculator
Gain CELPIP Exam Format through the course and mock tests
We are here for you!
We will assist you to make the Canada dream come true. Contact us to understand more about the work in Canada, life in Canada, post-study work visa, and process your profile smoothly. Please be conscious of fraudulent online portals that are running scams using important information.