Complete Your Family In Canada Permanently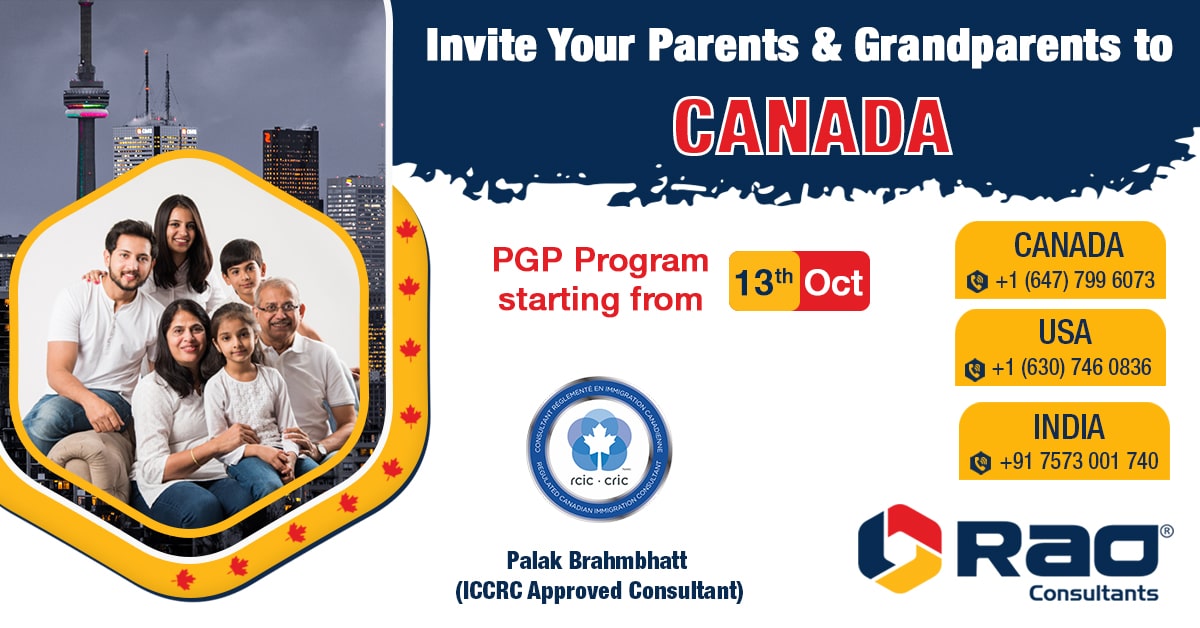 Are you a Canadian and permanent resident and willing to complete your family with parents/grandparents? Or are you an Indian Citizen and willing to settle with your children/grandchildren in Canada? Here is the best opportunity for you. Canadian citizens and permanent residents can sponsor their parents and grandparents to live permanently in Canada. After a long delay, the Canadian government is reopening the Parent and Grandparent Program (PGP) 2020.
What is the Parent and Grandparents Program (PGP)?
Canada's Parent and Grandparents Program (PGP) allows Canadian citizens and permanent residents to sponsor their parent(s) or grandparent(s) through the Parent and Grandparent Program. Eventually, sponsored parents and grandparents can become Canadian citizens to Settle in Canada.
Eligibility of sponsor family through PGP?
Canadian citizens, permanent residents, and registered First Nations are eligible to sponsor their own parents or grandparents, according to the IRCC norms.

Sponsors must be at least 19 years old, living in Canada, and they must have sufficient monetary fund to support the people who they wish to sponsor.

In either case, sponsors must sign an undertaking with the government meaning that they'll provide for the basic needs of the sponsored family member and that the sponsored person will make every effort to support themselves.

If the sponsor resides in Quebec, an additional" undertaking "is required to get signed by the province of Quebec.
Who can be sponsored under PGP?
The biological or adopted parents and grandparents of eligible Canadians are entitled to sponsorship, as well as step-parent(s) in cases of separation or divorce.

If applicants want to sponsor more than one individual or couple, they must meet all the income requirements for their dependents.

Sponsored family members will need to deliver all the required official papers including additional information i.e. medical exams, police certificates, and biometrics for the application.

The PGP is not for Canadians to sponsor their in-laws, their spouse's parents and grandparents, though they may be a co-signer on their in-laws' application.
PGP 2020 intake process in three steps:
Step 1: Potential sponsors indicate their interest:
Sponsors can submit an online interest to sponsor form to IRCC, signifying their wish to sponsor their parents and/or grandparents.
Step 2: Invitations to apply will be sent to potential sponsors:
Once the interest to sponsor period ends, IRCC will review all submissions, remove any duplicate entries and randomize the forms.
Step 3: Applications are submitted:
Sponsors who are invited to apply will be provided 60 days to submit their application. IRCC may grant a 90-day extension in case of a COVID-19 pandemic.
Relief in income requirement:
Due to the coronavirus pandemic, IRCC is also presenting a temporary public policy that will decrease the income requirement for the 2020 tax year to the minimum necessary income, rather than the lowest needed income plus 30 percent.
Deadline for Canada PGP 2020
Immigration, Refugees and Citizenship Canada (IRCC) will accept interest to sponsor forms for the Parents and Grandparents Program (PGP) between 12:00 p.m. EDT on October 13 and 12:00 p.m. EDT on November 3. Nominated candidates will have 60 days to submit their requests.
Quick facts:
In PGP 2020 intake, a maximum of 10,000 applications will be accepted.

IRCC will randomly select potential sponsors to submit an application

Invitations allotted by IRCC are not movable to any other sponsor.

The minimum income requirements for the 2020 season aren't final yet.
Conclusion:
Parents and Grandparents are our best guides us to navigate properly in our life to reach the proper destination. The Canadian government also appreciates this so they have a program called PGP, in which you can sponsor your parents, grandparents or dependents.
We are here to help you!
At Rao Consultants, we confirm that our clients are directed through the entire PGP process without a hitch and that they get their Canada PR or Dependent Visa easily. We are ICCRC approved member providing excellent support throughout your process for visa filling.