Embark on Your Academic Adventure: May 2024 Intake at Algoma University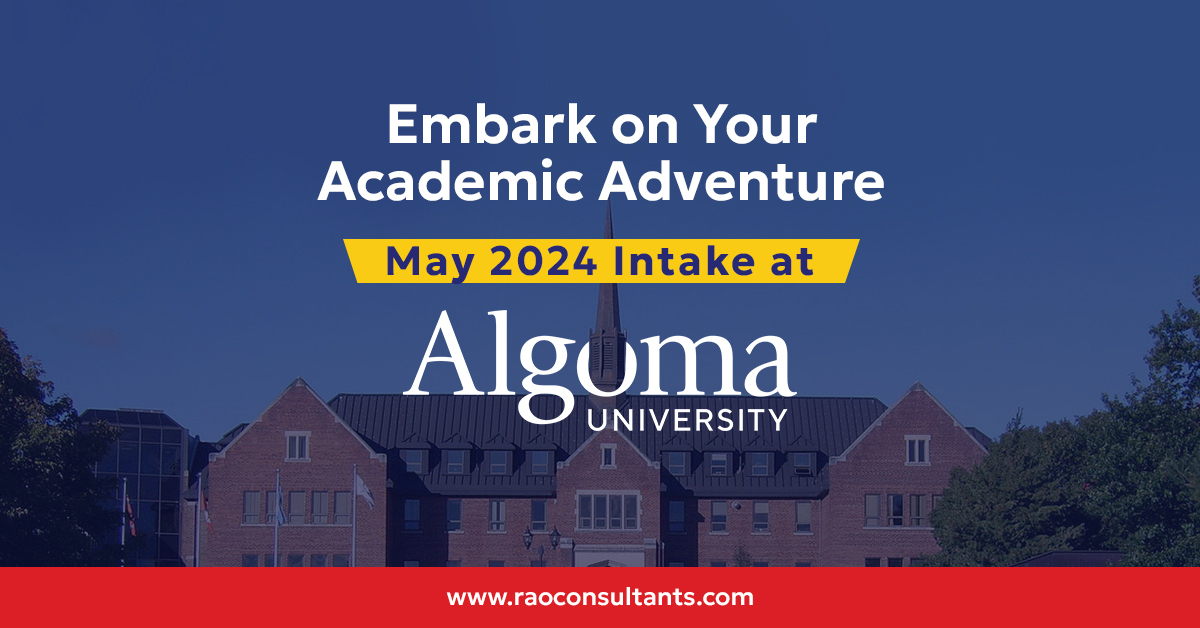 Are you dreaming of pursuing your Higher Study in Canada? Algoma University is here to make that dream a reality. The university is currently accepting applications for the May 2024 intake, offering international students an exciting opportunity to immerse themselves in the charming city of Sault Ste. Marie, Ontario while pursuing their academic ambitions.
Algoma University boasts a diverse array of undergraduate and graduate programs, ranging from business and computer science to education, health sciences, and social sciences. What sets this institution apart is its strong emphasis on experiential learning. Students can gain invaluable practical skills through internships, co-op programs, and research opportunities, making their education not just theoretical but also practical.
Why to study in May 2024 intake?
Choosing the May intake can be a strategic move for several reasons. It allows students to kickstart their academic journey in the refreshing spring season, offering a unique perspective on the Canadian Education Experience.
Additionally, for those who may have missed the fall intake, the May intake provides an excellent opportunity to begin their studies without unnecessary delays.
If you're considering this exciting opportunity, remember that the application deadline for the May 2024 intake is February 1, 2024.
To initiate your application, we will help you with essential documents which are required to submit, including transcripts, our experienced faculties will help you achieve the desired scores in Foreign going competitive exams, letters of recommendation, and a well-crafted Statement of Purpose that reflects your academic aspirations and personal journey.
Here are some compelling reasons why Algoma University should be at the top of your list:
Algoma University offers the CA$ 6000 Scholarship/Bursaries* to every student

It is one of Ontario's smallest Universities with campuses located in Sault Ste. Marie, Timmins and Brampton

The small class size offers increased interaction between students and faculty

Excellent Student Support Team

Affiliated with 16+ Countries Institutes
So, if the idea of studying in Algoma University appeals you here's you need to do:
Find us on Google and we will guide you further.
With the deadline for the May 2024 intake approaching on February 1, 2024, it's time to take the first step towards your academic aspirations.
Apply to Algoma University today and embark on a journey that quality education with the enriching experience of living in Canada's stunning Sault Ste. Marie. For more information and to begin your application, please contact us.
Your academic adventure awaits!