Germany – The Best Country in Europe to Look For a Job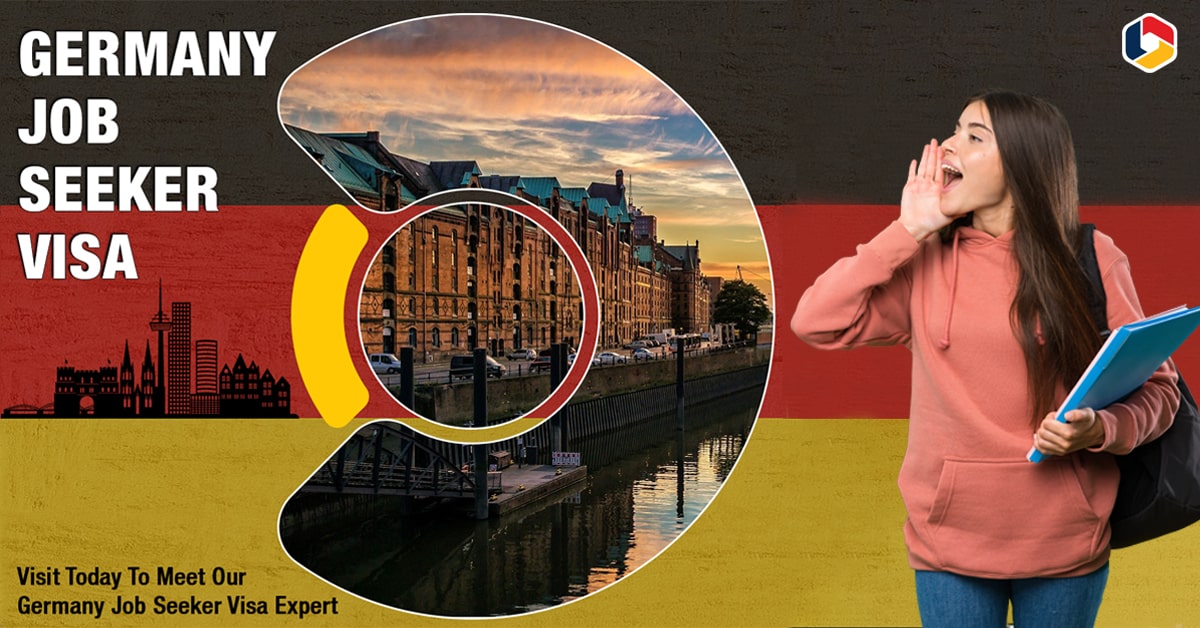 Germany – A fascinating country with a lot of intrigue and scenic beauty. European countries like France, Switzerland, Spain and some others, are known for Art, Entertainment, Food and Theatre. While the soft-power of these countries is very strong, it is not always easy to move and settle here.
However, Germany is very different. Rooted in cultural history, this Western European country is known for its industrial prowess and business expertise.
Unlike the U.S., Canada and Australia, Germany is not a traditional immigration destination. Nevertheless, in the past few years, this country with its immigrant-friendly policies has become an attractive destination for those seeking to enhance their lifestyles. Germany is increasingly getting immigrants from China, India, Bangladesh, and Philippines.
One of the most convenient ways to enter Germany and have a chance to settle down is the Germany Job Seeker Visa.
What is Germany Job Seeker Visa?
The Federal Government of Germany launched the Job Seeker Visa to encourage skilled professionals from around the world to come into the country, find a good job in their filed and in turn stay in the country for a long time. This Visa especially targets qualified people who have had some initial working experience in their field.
The important feature of this Visa is that one can move to Germany without having a job in hand. If a person meets the eligibility of the Visa, he/she can move to the country and then find a job that best suits their skills. One the person gets a job, he/she will have to apply for Employment Visa and then start working. Validity of this visa is 6 months and cannot be extended.
Having a huge manufacturing and mechanical manufacturing industry, the country is always on the lookout for trained professionals in the IT, Engineering and related industries. Health and Medical Industry is also seeking qualified people for jobs at every level. From Nursing to Pharmacy and Lab Technicians to Surgery, there is always a shortage of trained people at every level. Teaching is another field where vacancies can be found.
Benefits Of Germany Job Seeker Visa
Following the route of immigration through Job Seeker Visa is very beneficial for aspiring professionals. It offers an opportunity for skilled and qualified people to search for a suitable job on-site. This in itself opens up huge number of possibilities for foreigners. Also, gaining a Job Seeker Visa does require the person to have certain basic qualifications and also experience, making the employers more open towards you. Some of the major benefits include:
No need to have a job in hand or be a student in the university
Opens up Germany's vast job market
Can easily commute throughout the country to seek job
Attend as many interviews as required
With Job in hand, in most cases the employer will sponsor your Employment Visa
Eventually settle down in the country for years
Eligibility for Germany Job Seeker Visa
To apply for this visa, the person must certain general criteria that is common for all routes of immigration. They include language proficiency and financial stability. Some other requirements specifically for this Visa are:
Applicant must be an adult, that is 18 years or above
Applicant must have qualification that is equivalent to Bachelors or Master's Degree in Germany
Applicant must have at least 5 years of working experience
Must produce all the relevant documents and certifications for processing of the Visa
The top occupations in demand in Germany:-
According to research, Germany could be required up to three million skilled workers by 2030. And this figure may increase to 3.3 million after a decade. Some highly demanding jobs are hereunder.
IT professionals
Engineers
Scientists
Health specialists
Mathematics
Trades etc
You should choose us because:
– We take great care in your application with no loopholes
– We ensure essential paperwork and other procedures with detailed checking to proceed further
– Our experienced counsellors provide excellent guidance with the most suitable option for you
– We prepare you for the interview with the possible questions that can be asked
– Our experts over and above tracking your application for you
– Above all, we are a providing visa and immigration services from 2 decades and trusted by 2 lacs families for their visa requirements
At Rao Consultants, a ICCRC certified canada immigration consultants specialize in helping aspirants in achieving their dream destinations. Registering your application with us means your future is in safe hands. For any assistance, CALL: (079) 30 444 444 / 67 444 444.