Great Opportunities in Great Britain!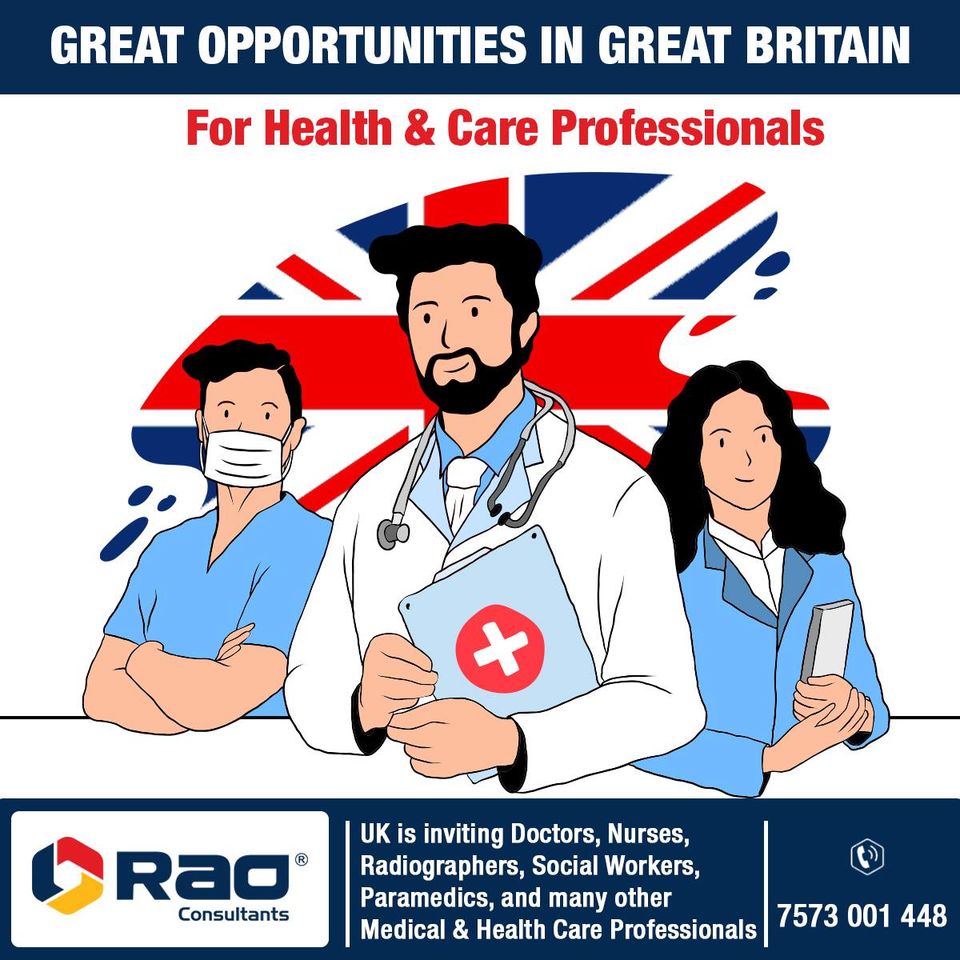 Good News for medical professionals! If you are a medical professional and willing to build the brightest career abroad in the UK, here is the Great opportunity for you. UK Government unveiled a fast-track health and care visa for the best and brightest medical professionals from across the world. The Health and Care Visa is precisely planned to make it quicker, cheaper, and easier for the best global health professionals to work in the UK.
Benefits at a Glance:
Reduced visa application fee

Exemption from the Immigration Health Surcharge for health and care staff permanently.

Exemption from the Immigration Health Surcharge of your dependents.

Candidates working in health and social care who do not succeed for the Visa will still be able to claim a reimbursement from the Immigration Health Surcharge.

It's the cheaper, quicker, and easier visa process for all overseas applicants.

You can expect a decision on whether you can work in the UK in just three weeks.
Who Are Eligible?
The health and care visa is open to all professionals who have a confirmed job offer in one of a series of "skilled" roles within the NHS or health care sector, or for NHS service providers, such as doctors, nurses, radiographers, social workers, and paramedics.
Check Your UK Visa Eligibility:
The list of qualified professions for UK Health and Care Visa is as follows:
2112 – Biological scientists and biochemists

2113 – Physical Scientists

2211 – Medical Practitioners

2212 – Psychologists

2213 – Pharmacists

2214 – Ophthalmic Opticians

2215 – Dental practitioners

2217 – Medical Radiographers

2218 – Podiatrists

2219 – Health Professionals not elsewhere classified

2221 – Physiotherapists

2222 – Occupational Therapists

2223 – Speech and Language Therapists

2229 – Therapy professionals not elsewhere classified

2231 – Nurses

2232 – Midwives

2442 – Social Workers

3213 – Paramedics
Why Work and Settled the United Kingdom?
Incessantly the UK has been the popular immigration destination for worldwide immigrants due to a bundle of reasons. The UK is a country of multi-ethnic, multi-cultural, multi-racial society. The country is one of the most innovative and powerful nations in the world. In several standards, UK ranks on the highest level such as human development index, high-income economy, higher per capital income, businesses, solid military power, and many more. UK Permanent Residency permits immigrants across the world to enter and settle in the UK permanently and enjoy the rights and privileges in the nation. As a UK residency holder, you can have access to public funds. The country has 9 universities that are included in the Times Higher Education top 100 rankings so that, your children can enjoy their benefits to study in UK.
More Benefits to You (Medicos) in the UK?
As medicos, you will be warmly welcomed in the UK, and provided excellent opportunities to work, train, and reside in the country. You will have a great chance to work with NHS which is the largest healthcare system in the world. Hence, you will become part of a highly-skilled, devoted, and passionate team of healthcare professionals in the world. The advantage of being a doctor in the UK is not only job stability but most doctors are offered overtime because of the high demand for patient's needs which means more earning opportunities. Not only that, but NHS also offers its employees outstanding pension packages and many more.
Basic Documents Required for Work Visas
Valid passport or travel ID.

Proof of financial means enough to support you during your stay.

Proof of English language eloquence.

Proof of payment of the healthcare surcharge.

TB test if you will stay longer than six months and are a citizen of a listed country.
Summary:
Over the years immigration has transformed the face of the UK. Today the UK is one of the hot favorite destinations among high skilled workers around the world. Before immigration, you should know the permanent residence permits, work permit visas, skilled worker visas, and self-employment visas. Organizing an international moving needs several crucial tasks to complete at the right time with accuracy. As the best visa consultants, we understand your needs and providing significant services to help you. UK Healthcare visa available to applicants from August 2020. Contact us today to jump start your move.
To know more about UK Health and Care Visa or need any further assistance in your Visa Application, Visit www.raoconsultants.com,  or Call: 7573001448.