Instant Spot Assessment for London South Bank University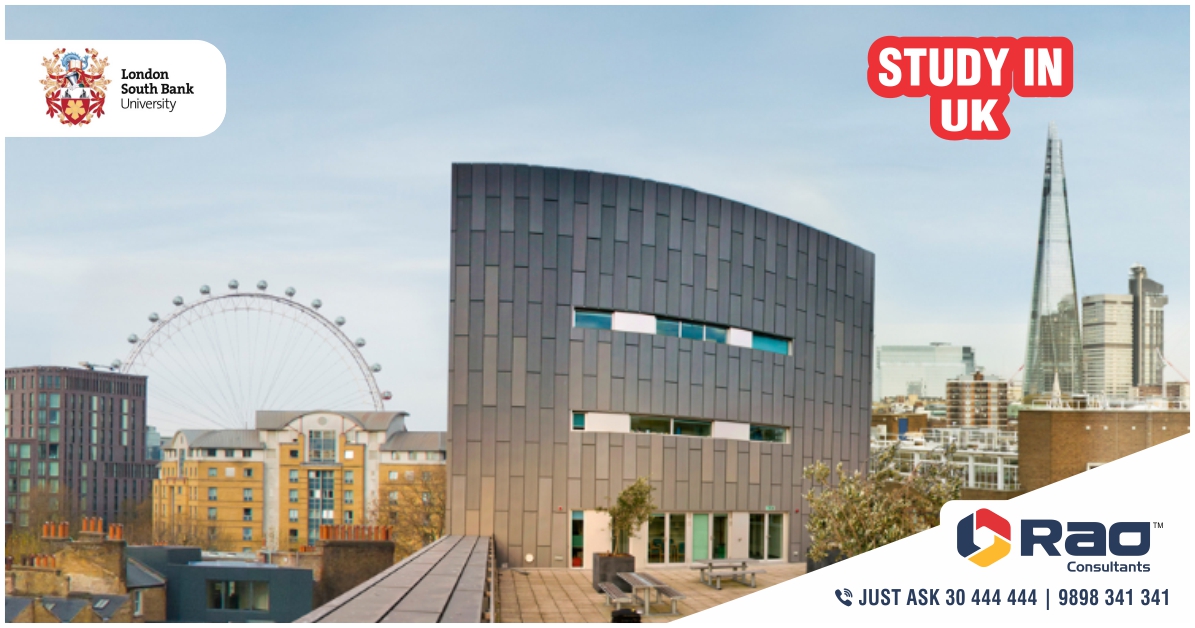 If you are serious about education, then you know that there is no other place better than London to get your degree from. London has its own vibe. An aura of exceptional repute that makes every pass out from its gates a valuable asset. Rao Consultants is giving you an opportunity to instantly meet direct representatives from London South Bank University on 1st April, 2019 at a spot assessment!
Expose yourself to the vast information that the university representatives bring with them. At Rao consultants, we believe in giving the students a chance to experience communication with the Foreign universities first hand. A spot assessment becomes the perfect platform to do so.
What makes London South Bank University So Important?
World-class learning comes with world-class infrastructure:
The extensive view of London South Bank University helps you explore things beyond boundaries. The cutting-edge technology, state-of-the-art virtual engineering labs, Elephant Studios, specialist laboratories make the university a top study destination in the world.
Affordable fees:
The application fee for a UG and PG course starts from £13,780.
Welcome to the community of continuous learning
LSBU is a dream study destination. It gives you a sense of belonging. The practical support leaves you safe, settled and ready to study.
Entry requirements:
If you want to go for a PG or UG course, you need to have a minimum score of 55% in UG or Standard XII.
If you have appeared for IELTS, you should have a minimum score of 5.5 in each skill area. If you are applying for a UG course, your overall score should be 6.0 and for a PG course, it should be 6.5.
However, you can apply for a particular course in LSBU without IELTS.
Choose your favourite UG & PG courses from the list below
Accounting, Finance and Economics
Acupuncture
Architecture
Bakery
Business Management
Charity and Public Sector
Computing
Construction
Criminology
Drama and Arts Management
Education
Engineering
English, Media and Culture
Healthcare
HR / Careers
Law
Marketing
MBA
Media Production
Midwifery
Nursing
Occupational Therapy
Operating Department Practice
Planning, Surveying and Property
Politics and International Policy
Product Design
Psychology
Radiography
Science – Biosciences and Biochemistry
Science – Food and Nutrition
Science – Forensic
Science – Sport
Social Care
Sociology and Social Studies
Tourism and Hospitality
Employability Skills picked up at LSBU helps you go one step ahead:
Why become average? London South Bank University has come up with opportunities for you to differentiate yourself!
The university strongly believes in co-creation. Whether it is culinary, law, engineering or construction, every course is thoroughly designed keeping in mind the latest trends and requirements of the employers. The university focuses on personalized learning.
"LSBU offered exactly the modules that helped me get better at what I was doing at my last job and also to move ahead and be a business analyst. So, it was my very first choice and it ranked among the best as well. I had no hesitation in choosing LSBU." Said Arrol Rodriguez, MSc IT
Like Arrol, many students from across the world are grateful to London South Bank University. Thanks to the career-focused courses and industry-interface programs. The university has been awarded Silver for Teaching Excellence (TEF).
LSBU, through employability services, make you a strong and confident person. It will help you prepare for an interview and find a suitable job. Some of the parameters of employability skills are:
Communication
Teamwork
Problem-solving
Initiative and enterprise
Planning and organizing
Decision making
Self-management
Willing to learn
Positive attitude
Employers look for 'employability skills' in students, which will make you stand out. LSBU students are open to learning new things. It helps them become easy to get along with students across the world.
Study at the heart of London:
Why not study at the heart of London where you can become the center of everything? The LSBU main campus is strategically located. It is just 10-minute walking distance from the famous South Bank and mainline stations such as London Waterloo and London Bridge. It is a two-minute walk from Elephant & Castle Underground station. You can also enjoy the bus ride from Waterloo or London Bridge.
Need more information? No problem! Come for the London South Bank University Spot Assessment at Rao Consultants on 1st April, 2019 for all the information that you need!