Manitoba Invites 253 Applicants – Draw #96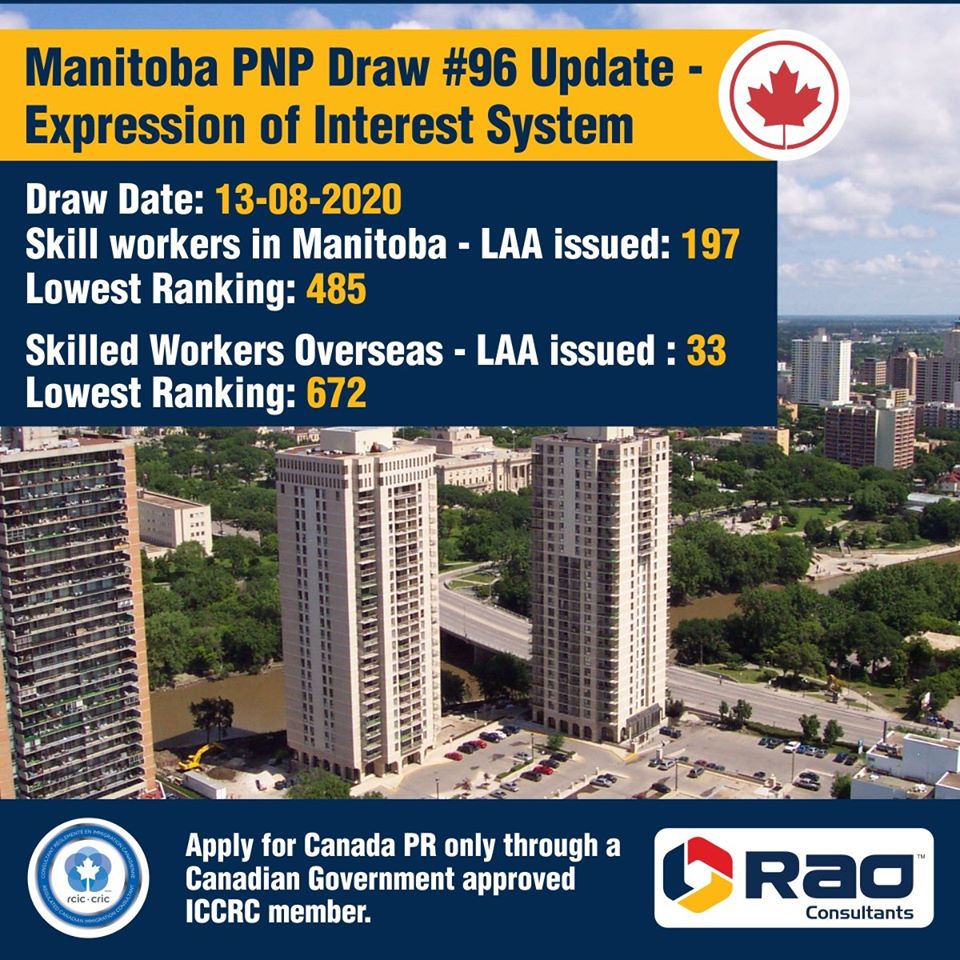 The Canadian province of Manitoba invites 253 applicants through the MPNP draw. The Manitoba Provincial Nominee Program (MPNP) invites international students and skilled workers to apply for a nomination. The receivers can now move forward on their application and hope to lock a provincial nomination from Manitoba. Manitoba organized its 96th Provincial Nominee Program draw on Aug 13th.
Letters of Advice to Apply (LAAs) to immigration
| | |
| --- | --- |
| Streams | Allocation |
| Skilled Workers in Manitoba | 197 |
| Skilled Workers Overseas | 33 |
| International Education Stream | 23 |
| Total | 253 |
Note: LAA is a recognized offer for immigration applicants to apply for a provincial nomination for Canada PR.
How to Receive Manitoba Invitation?
Immigration candidates need to register an Expression of Interest (EOI) with the MPNP to receive an LAA through the Skilled Workers in Manitoba and Skilled Workers Overseas categories. Manitoba can recognize and offer candidates for arrival to Manitoba through the suitable category. If you need to make an exploratory visit to Manitoba, you must apply within a selected intake period.
The Craze for Manitoba!
According to a recent review, 85 percent of Manitoba provincial nominees were working three months after arrival, and 95 percent of families making Manitoba their new home by settle permanently in the community. Manitoba's strong economy, beautiful land, and friendly people provide opportunities for better jobs and stronger family life.
Why Manitoba?
Greater employment opportunities

Lower cost of living than other territories in Canada.

Free public healthcare and education

Diverse assortment of topographical landscapes
Manitoba is amongst the finest homes to live in, and it has 10 of the top 20 In-demand jobs in the 2020 list. The succeeding ratio of immigrants in Manitoba is excellent! Every year around 15,000 immigrants settled permanently to Manitoba, finding their new jobs and making career successful. Manitoba has a long history of opening its doors to those in need of humanitarian safety from war and persecution.
Check Your Eligibility:
Each candidate who desires to be considered under the Skilled Worker Overseas stream needs to score at least 60 points centered on five factors to be qualified.
Five Factors to Points Assessment:

 Sr. No.
Factor

Maximum Points

1
Language Proficiency

25

2
Age

10

3
Work Experience

15

4

Education

25

5
Adaptability

25

Minimum 60 Points
Language Proficiency
Language Points are calculated based on documented evidence of training and ability in one or both of Canada's official languages, English and French.
Applicants whose occupation is sorted at National Occupational Classification C or D, to be qualified to apply.
Age:
The age points are to be considered on the date of application is received by the MPNP.
Work Experience
Work experience is counted for only full-time employment during the previous five years.
Education
Education Points are based on recognized evidence of completed education and /or training courses.

The MPNP has all the rights to involve a third-party assessment to demonstrate trade education and training are analogous to Canadian standards.
Adaptability
Adaptability points are considered based on documented proof of a close relative or friend to Manitoba and employability in your evaluated profession.
Why choose Rao Consultants?
We at Rao Consultants, guide you for Manitoba visa procedures. We offer you the latest developments and information according to immigration guidelines. As an IRCC approved member and renowned Canada PR visa consultants in west India, Rao consultants will help you to evaluate your eligibility, assessment of all documentation, and submit all documentation on your behalf. We not only offer you the greatest possible chance of receiving an ITA but will mark the complete process simple and stress-free.