Opportunities to Study, Work And Settle In Canada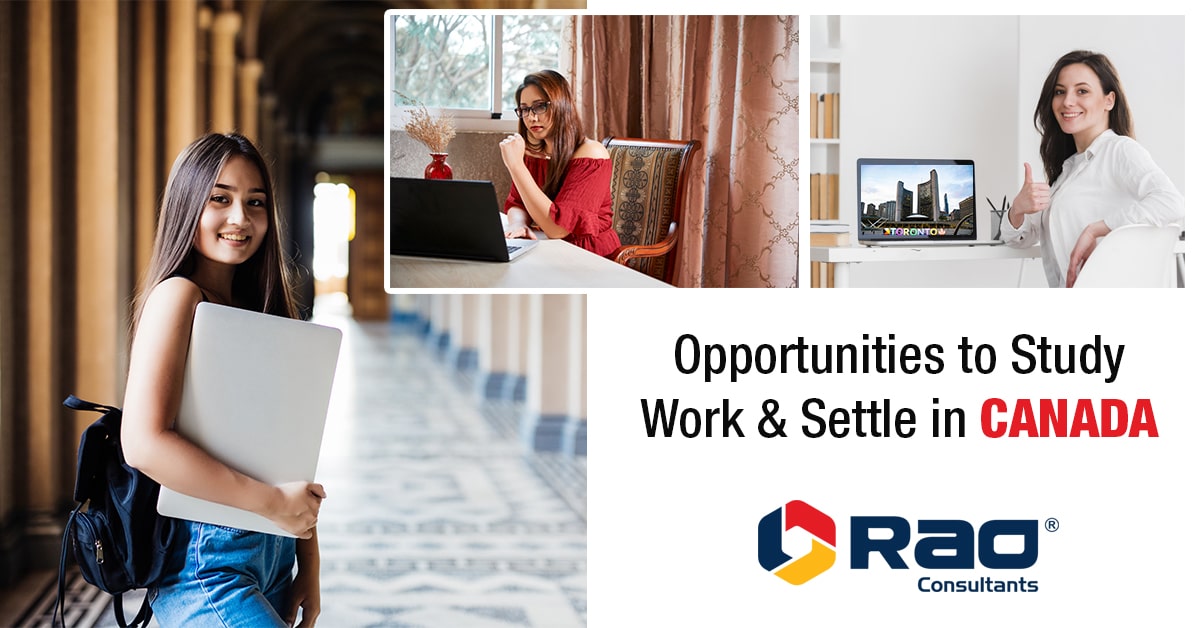 Canada has always been the top choice when it comes to education and employment for Indian students. The Canadian government has announced several reforms in support of International students who recently graduated from Canadian institutions. In major improvements in Post-Graduation Work Permit Program (PGWP) and dependent visas, made Canada an even more popular destination. If you are planning to study and settle in Canada, here is the right time to go with your decision.
Attractive package to international students:
With global gratitude and status, Canada is the first choice for employment. Students can secure a post-graduation work permit (PGWP) which allows them to stay back and work in Canada. Canada's immigrant welcoming atmosphere has been attested to be a boon for immigrants who want to stay in the country and increase Canadian work experience. Moreover, a dependent visa allows you to live along with your family in Canada.
Pathway to Canada PR:
The PGWP has become a prominent and most-popular program among international students due to certainly associated merits. Different from other countries, international graduates in Canada can obtain plenty of time to halt and work in the country. Here are several of the motives why Canada's PGWP program is the top choice for you:
A PGWP allowing you for any period between eight months and three years to full-time work and stay anywhere in Canada.

The post-graduation work permit will be almost the same duration as the applicant's period of study, up to a maximum of three years.

A PGWP candidate can be exempted from the Labor Market Impact Assessments (LMIA).

An open work permit PGWP allowing you to work for any Canadian firm without a job offer.

PGWP backings permanent immigration to Canada as the experience you gain will consider in a future application for Canada PR through several immigration pathways.

International students can do 100% of online studies and still catch PGWP.

Spouses and common-law partners of applicants with a PGWP may be entitled to an open work permit under the C41 exemption.
Study in Canada with your Spouse and Kids!
International students learning in Canada who are married or have dependent kids may bring family members with them to Canada during their study program. Spouse will be eligible to apply for a spousal full-time open work permit, if you approved for a study permit in Canada. All kids are eligible to follow schooling or secondary level of education if anyone of their parents is approved to study in Canada.
Benefits for Dependent Children:
Dependent kids will have admission to free education at the straightforward and secondary levels.

You can open a savings account for your kid's ongoing schooling

Tax-free monthly assistance contribution with the overhead of raising children

Kid healthcare aids

Your kids with debilities acquire distinctive benefits

Training opportunities include paid scholastic leave, apprenticeships and specialized training, coaching compensation, etc.
Highest Opportunities to Canada PR:
The IRCC identifies the deep pool of endowed personnel who are already employed in Canada and wants them to become Canadian permanent residents. IRCC invited maximum CEC candidates in the recent draws held in February 2021. If you meet the basic eligibility criteria for the CEC, IRCC will invite you to apply for permanent residence.
Special Benefits to CEC Candidates:
Canadian Experience Class

applicants are not required to demonstrate evidence of funds.

One year of experience in Canada is a highly-valued element under the CRS, subsequently improves candidate's chances to Canadian PR

Canadian Experience Class applications are treated swiftly because the required documentation is minimal
Amazing Advantages to Work in Canada:
Canada offers the premier minimum wages which range from $10.50 – $13.00 subject to the province.

The standard hours of work are 40 in a week, the maximum number of working hours is 48 in a week

Any hours worked more than the average hours of work are measured as overtime hours

Overtime pay at a rate of a minimum of 1.5 times the regular hourly wages

Overseas employees have access to the highly-subsidized healthcare system covered with dependents.

You can earn reimbursement if you have lost your employment and if you are ready to work but do not catch any jobs.

Maternal and paternal benefits of leave

A minimum of two weeks of holidays for every year of service

Training opportunities with paid educational leave, apprenticeships, and specialized training.
Legal Benefits:
Employment Insurance (EI) for both  

Canada Pension Plan (CPP)

Workplace Insurance coverage
Other Benefits in Canada:
Paid vacation and paid leave, as well as maternal leave and parental leave to workers.
Strong fiscal systems and banking networks helps citizens in a friendly way.
Responsible and transparent public funding structure that offers more economic independence.
Keeps you updated and adapted to the technologies being a country with progressive development and innovations.
Canada is one of the uppermost nations in the world offering a great lifestyle and atmosphere.
A safe, secure, and satisfactory living environment
Affordable cost of living among the diversity in the population
Conditional Benefits:
Promotional gym memberships

Matches with rewarding awards

Comprehensive health benefits

Transport allowances

A work vehicle

Free childcare

Flexible working hours

A mobile phone and mobile service plan

Annual holiday parties

Annual monetary bonuses

RRSP matching

Extra educational opportunities
Pension for Employees:
The Canada Pension Plan (CPP) is an enforced and contributing savings strategy for all working Canadians. Personnel can have access to the income from CPP from as early as 60 years or can defer it up to the age of 70.
Conclusion:
Study and settle in Canada is the dream of numerous international students, as one of the most peaceful, rich and citizen-friendly countries in the world. International students can obtain a fresh Post-Graduation Work Permit under a new public policy and subsequently apply for Canada PR. Not only that but, you can also take your spouse and kids under a dependent visa while studying. All in all, Canada wants you to settle in the country now and forever!
We are Always Open to Help You!
We are always open to help you with the latest information regarding the study and settle in Canada. Over 19 years, we provide our level best services for you with all the new happenings regarding visas, immigration, tours, and job possibilities. Please feel free to can contact us for any further assistance.