Walk-In to the Rao Education Fair 2019 and Make your Future Brighter!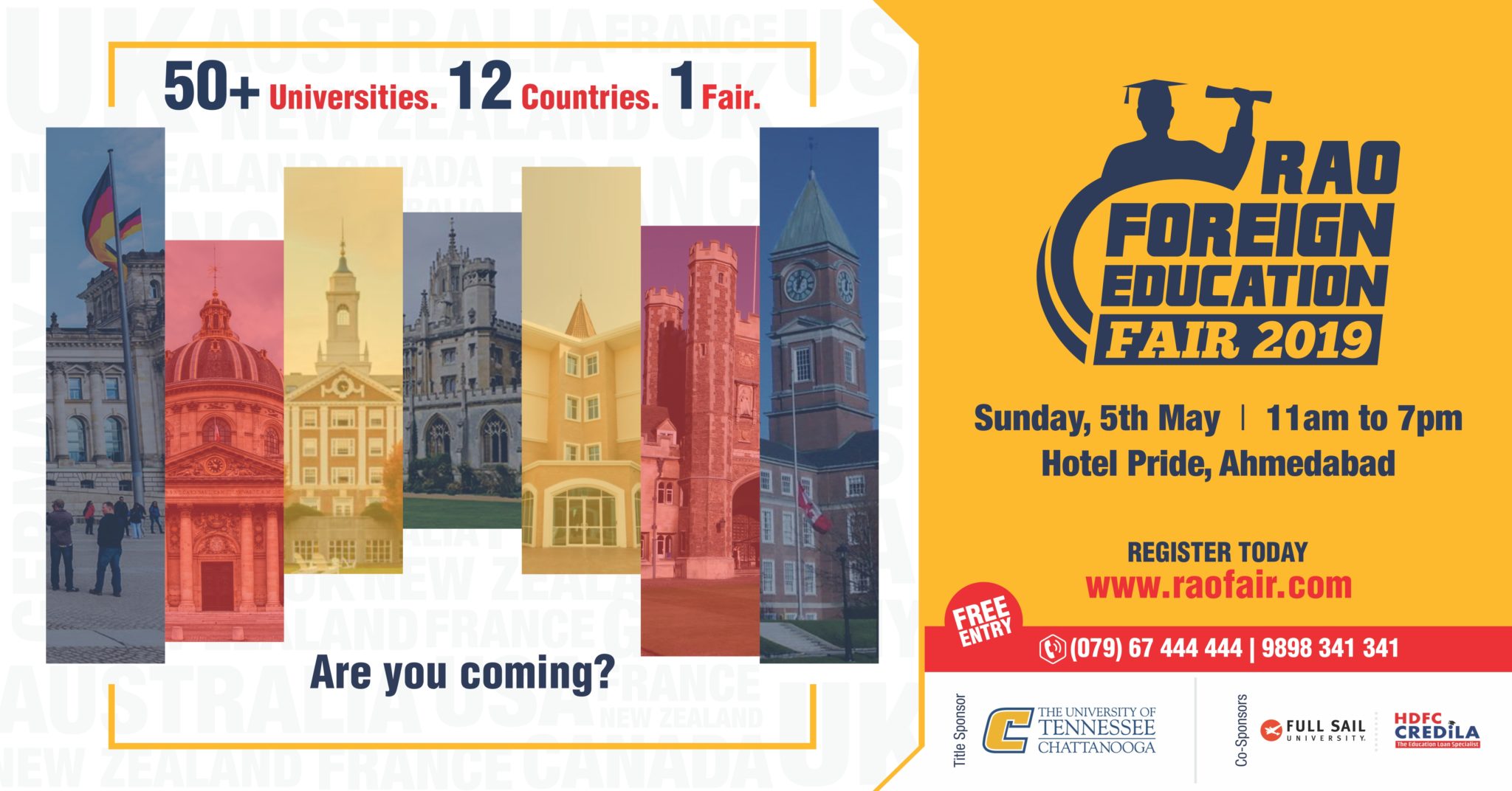 Moving to an unknown destination from your comfort zone seems to be the most difficult decision. That's because we cannot always come to a right decision alone. We become anxious. We talk to our parents. We talk to our friends. We keep going from one foreign education consultants to another to seek for the right professional guidance.
Whenever you land in a foreign country, things might get out of your control. However, if you approach a comprehensive foreign education and visa expert, who also look after your post landing concerns, in addition, you will take a deep breath! We, at Rao Education Fair 2019, are going to give some important suggestions on post landing services to make your experience easy and convenient.
These are how our post landing services will give you complete peace of mind.
Choose a Cost-Effective Air Ticket Rather Than a Cheap Option:
Most of us cannot find cheap flights while booking tickets at the last minute. Finding a ticket has become a tough task especially in festival season. Pick up the most cost-effective deal early to book your air tickets.
Select Safe and Secure Service:
Need a lot of luggage while moving to a foreign country? We will fulfill your need. Be safe and secure before flying to your desired destination. Get a secure immigration procedure and ease the anxiety of your family members.
Get Ready with the Most Authentic Insurance Options:
Medical treatments and health-related services abroad are always very expensive. It's necessary for you to have health insurance. You will also be covered for baggage loss.
Get covered with travel and health insurance. We help you identify the most suitable policies for you. We are regularly in touch with registered insurance agents who are trustworthy. They will help you get the best student insurance. Overseas health insurance covers the expenses of the hospital and other medical bills.
Standardized Foreign Exchange System Makes Your Transactions Hassle-Free:
Finding the right trustworthy foreign currency exchanger might be a tough task. We make your convenience our top priority. To make easy transactions and pay your fees on time, you will avail the currency converter from Rao Consultants. With a standardized system of foreign exchange, we make your financial dealings hassle-free.
Experience Peaceful Accommodation Service:
Though in most countries, you will get off-campus accommodations at a reasonable rate, it might be difficult to arrange on-campus accommodation. However, if you are with us, we will make this arrangement.
We have tied-up with various accommodation providers who can help you select the right accommodation. You will either get rooms with breakfast options or with self-catering options.
We keep checking the resources from our India office in order to make sure that you are only getting the best possible services.
Airport Pick-Up Service:
When you land in a foreign country, we help you arrange the airport pickup. A chauffeur driven car arranged by the university will meet you at the airport and ensure that you safely reach your accommodation. The same service can be privately arranged with prior notification.
Grab the Right Job for You:
Get important tips to find the right kind of jobs in the right destination. We not only make your CV look professional but also provide references and contacts for the authentic overseas recruitment consultancies. These consultancies will help you find your desired job. We help you seize the right opportunities to earn while you learn during vacations and after the terms. We help you identify opportunities in difficult situations and make the most of them.
Experience Our Comprehensive Post Landing Services:
We will also help you find education institutes for your children, renting or buying property or land, medical and school or kindergarten school for your children.
At this Rao Education Fair 2019, we are going to organize advanced orientation sessions to introduce you with the foreign destination, its social life and culture, banking, health and life insurance, education, health services and much more. These sessions will help you understand the lifestyle of a foreign country to a broader sense.
Our collaborative in-depth discussion with managers, counselors, experts, foreign universities, external agencies, students and parents make your post landing service hassle-free.
Come along with your parents or guardians to the Rao Education Fair 2019 on 5th May at Hotel Pride, Ahmedabad.