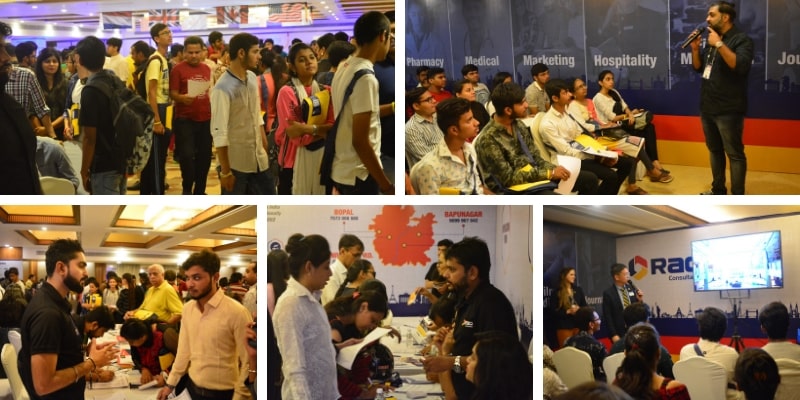 The Rao Foreign Education Fair 2019, held on Sunday, 5th May, 2019 at Pride Hotel, Ahmedabad, was a raging success with huge numbers of students pouring in to get information on various courses. The fair was attended by direct university representatives of over 50 Universities from 12 counties.
The success of the fair can be associated with the streamlined and systematic flow of the entire event. Everything was planned meticulously to ensure that all the students can get every bit of information that they have been looking for without getting lost in the crowd.
Although the response was so overwhelming and the venue was absolutely packed, the way the layout and set up was managed made it absolutely easy for people to gather all the information from dedicated desks assigned to countries and universities.
There were registration desks and counters right at the entrance where students came and got registered for the fair with their names and contact details. Each student was then given an RF (Rao Fair) number and a lanyard to enter the fair.
Since the fair was an education fair, Rao Consultants saw it only fitting to bestow each student with a Laptop Bag that had a student kit. Apart from other stationery, the kit also had a floor plan in it which could guide them to their desired universities and countries.
Another major highlight of the fair was that it had dedicated 20-minute seminars conducted by multiple universities from around the world and also by banks offering student loans and travel visa insurances. These seminars were not promotional in nature, but were aimed at helping students understand what life would be like after they get through to a particular college or university and start living in a foreign country.
The seminars were a big hit and were all houseful.  Owing to popular demand by the students and parents there at the fair, some seminars had to be conducted twice. To help students who couldn't make it to the fair, Rao Consultants also posted a live telecast of some of the seminars.
The overall décor of the fair was very intelligently executed. While aesthetically superior in itself, each piece of décor had meaning and functionality. Everything was executed in a manner that ensured that all the students and parent who attend the fair could seamlessly flow through it without having to worry about missing out on anything or getting lost. Rao Consultants had also kept help desks at multiple places for ready assistance. Their counselors were even available on the floor to guide anyone who seemed to have any kind of query.
With so many different university representatives traveling from so many different countries, the event was a huge success. It was a true amalgamation of diversity and varied diaspora across the day. The different universities there offered information on over 1000 courses for the benefit of the students.
Some major enquiries were in the fields of Business, Management, Engineering, film and Photography etc. To facilitate an easy record of students, we had enabled the University representatives with a web application.
On the whole, the response was both overwhelming and humbling. At Rao Consultants, we have always believed in providing the best possible service to all our clients at all times. When events such as this pay off so well, it humbles us by seeing the faith that so many students and so many universities place on. It motivates us to work even harder and to make dreams of foreign education for all the student even more easily acceptable.