Germany Job Seeker Visa: Unlock the Gateway to German Career Success
Posted by

Publish on

July 13, 2023

Updated on

July 15, 2023

Comments

0 comment

Total Views

1,324 views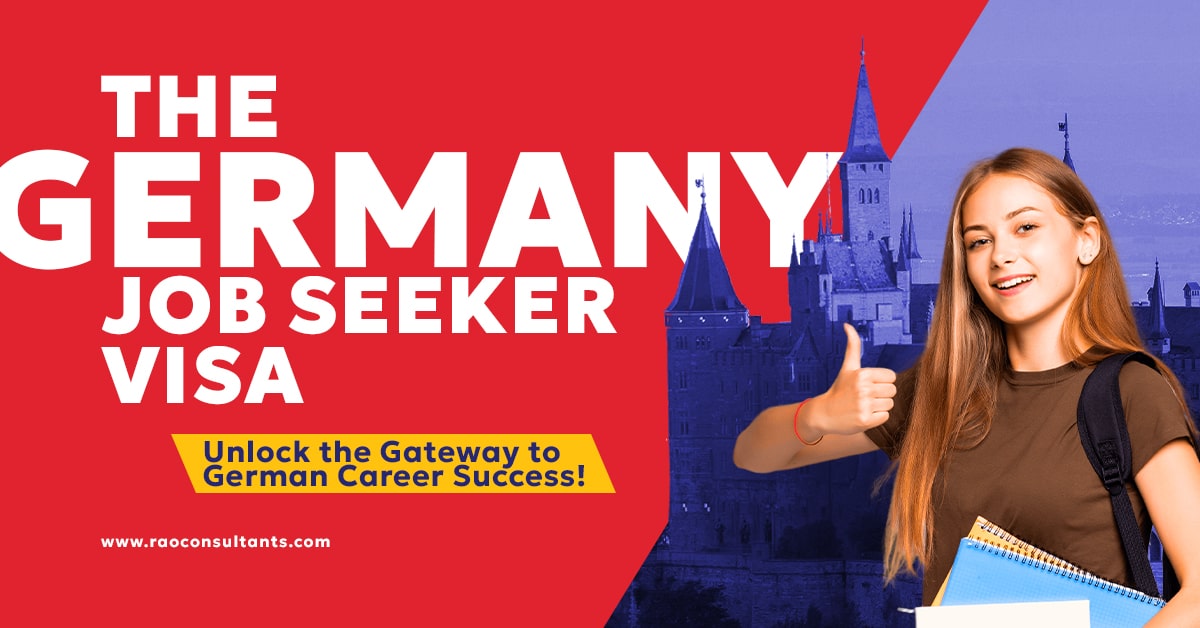 Experience the German Job Equation: High Salaries + Work-Life Balance = Your Dream Career
Germany is highly desired by foreigners seeking employment due to its abundant opportunities for talented individuals. The job seeker visa is among the various immigration options available, enabling foreign nationals to enter Germany and search for employment within a designated timeframe. If successful in securing employment during this period, individuals can proceed to apply for a work vis and obtain a residence permit.
Nevertheless, it is essential to assess your eligibility for the Job seeker Visa and familiarize yourself with the application requirements.
The GERMAN ADVANTAGE:
Work in a Dynamic Economy and Enjoy a High Quality of Life
The German Job Seeker Visa is a type of work visa designed for individuals seeking employment in Germany. Once granted this visa, you're permitted to reside in the country for a specific duration, typically around 6 months, during which you can search for job opportunities. After successfully securing employment, you can then apply for a work permit, allowing you to remain in Germany for the long term.
NOTE: If the person has already found employment and posses a valid contract, then in that case they do not need to go through the process of obtaining a job seeker visa. Instead, they can directly apply for a work visa based on their Job offer.
Your Ticket to Germany: Meet the
Eligibility Criteria

for a Job Seeker Visa

In order to be eligible for the job seeker visa, you must fulfil the following conditions:
Your AGE must be 18+
You must possess a BACHELOR'S DEGREE or higher in subjects related to STEM (From a recognized University)
You must have minimum 5 years of WORK EXPERIENCE in an occupation that has high demand in GERMANY'S LABOUR MARKET
You need to show SUFFICIENT FUND to prove that you can stay in Germany
A MEDICAL COVERAGE PLAN.
Accelerate Your Career Journey: Discover the
Advantages

of a German Job Seeker Visa!

Germany stands as the leading economic force within the European Union and ranks as the fourth largest economy globally, trailing only the United States, China, and Japan.

Boasting an impressively LOW UNEMPLOYMENT RATE of 2.9%, the nation accommodates a workforce of 45.5 MILLION INDIVIDUALS, while also hosting the highest count of cross-border commuters across Europe.

Germany is recognized as one of the leading nations globally when it comes to providing generous paid vacation time, securing a spot among the top five countries.

No IELTS or German Language required
Occupation In Demand in 2023
| | |
| --- | --- |
| Occupation | Average Yearly Salary in EURO |
| Computer science / IT and software development | 85,800 |
| Electronics engineering | 60936 |
| Mechanical engineering | 62000 |
| Account management and business analytics | 55000 |
| Nursing and Healthcare | 33654 to 65000 |
| Civil engineering and architecture | 62466 |
Take Charge of Your German Job Search: Applying for a Job Seeker Visa Made Easy!
To apply for a job seeker visa in Germany, you must follow the steps below:
Call us and check your eligibility for Free!
Find us on Google and come to the nearest branch to apply through us.
Get the documentation ready.
Pay the visa fee.
We will submit your application.
Retrieve your visa.
Enter the country.