Canada PR Self Employed Program!
Posted by

Publish on

August 11, 2020

Updated on

January 20, 2022

Comments

0 comment

Total Views

1,210 views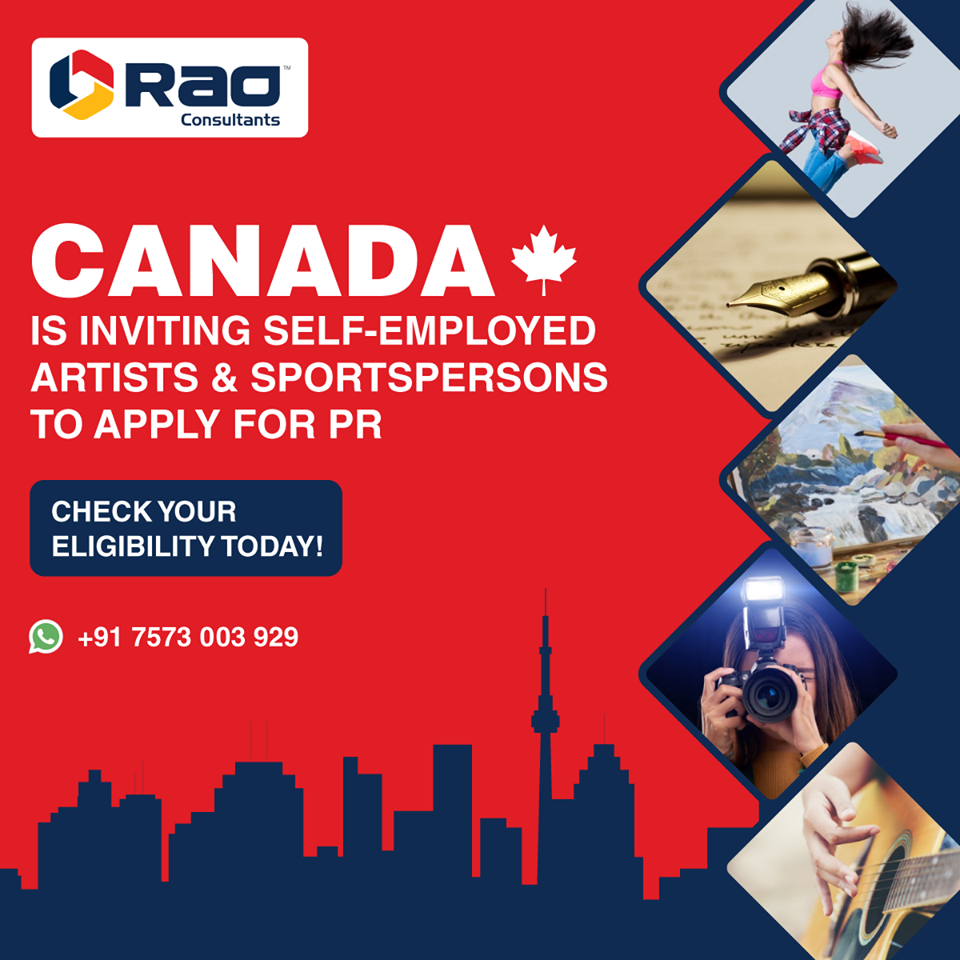 Self-employed individuals has the great opportunity for permanent resident (PR) in Canada. Lucrative openings are awaiting at your doorstep with Canada immigration via PR route. In this particular category of Federal Self-Employed program Independent farmers, professionals, artists and alike personalities are considered. The Federal Self-Employed program is especially designed to those individuals who want to establish in Canada lastingly as an entrepreneurial person. In case you meet the mixture conditions for the Federal Self-Employed Persons Program you are entitled for a business immigration visa.
Why Canada?
Permanent Resident (PR) status provides you a tons of capabilities and rights in Canada.

You can study or work anywhere in Canada with living facilities.

You will have free healthcare facilities through provincial universal health care coverage.

Free education in the Canadian public school.
Are you interested?
Interested applicants must have to qualify the succeeding conditions. As an applicant your eligibility must have minimum two years of pertinent experience and you have to demonstrate the intention to become self-employed in Canada. Your total score must be 35 points at-least that define whether you can support Canada economically. In that process selection scales include your Experience, Education, Age, Language abilities and Adaptability.
Eligibility and maximum points:
  Education                                                                25
 Experience                                                              35
Language proficiency/IELTS Score                   24
 Age                                                                            10
   Adaptability                                                            06
     Total                                                                       100
You can be eligible in Federal Self-Employed program if you are:
Librarian, Conservators and curators, Authors, writers, Editors, journalists, Translators, terminologists, interpreters, Producers, directors, choreographers, Musicians, singers, Actors, comedians, Painters, sculptors, Photographers, Film and video camera operators, Graphic art technicians, designers, illustrators, Interior designers, decorators, Artisans, craftspeople, Athletes, coaches, Sports officials and referees, etc.
How can you apply?
The whole application process includes three steps:
Get the application package

Pay your application fees and 3) Submit your application
Application package: Get the application package comprises a complete guide and certification process. As an IRCC member Rao consultants will help you with excellent services of application that guard your application from refusal, inadmissible and barred for five years from applying for Canada. We pay special attention to your applications proceed with correct information without missing crucial evidence.
Application fees:  Your fees includes processing fees, The Right of Permanent Residence Fee (RPRF), Biometrics and third-party fees which is payable online. Third party fees includes medical exams, police certificates, language testing based on your conditions.
Application Submit: After checking all the evidences and documents properly the further step is to submit the application properly. Rao Consultants will provide you with latest updates and trending scenario.
How can we help you?
We at Rao Consultants, manage you for Canada PR visa techniques. We offer you the most recent turns of events and data as indicated by migration rules. As an IRCC affirmed part and prominent PR visa experts in west India, Rao Consultants will assist you with evaluating your qualification, appraisal of all documentation and present all documentation for your benefit. We not just offer you the best conceivable possibility of getting an ITA however will check the total procedure basic and tranquil.
Click to check your eligibility for Canada PR through Canadian Government Approved ICCRC Member.