Latest Update on Parents & Grand Parents Program 2023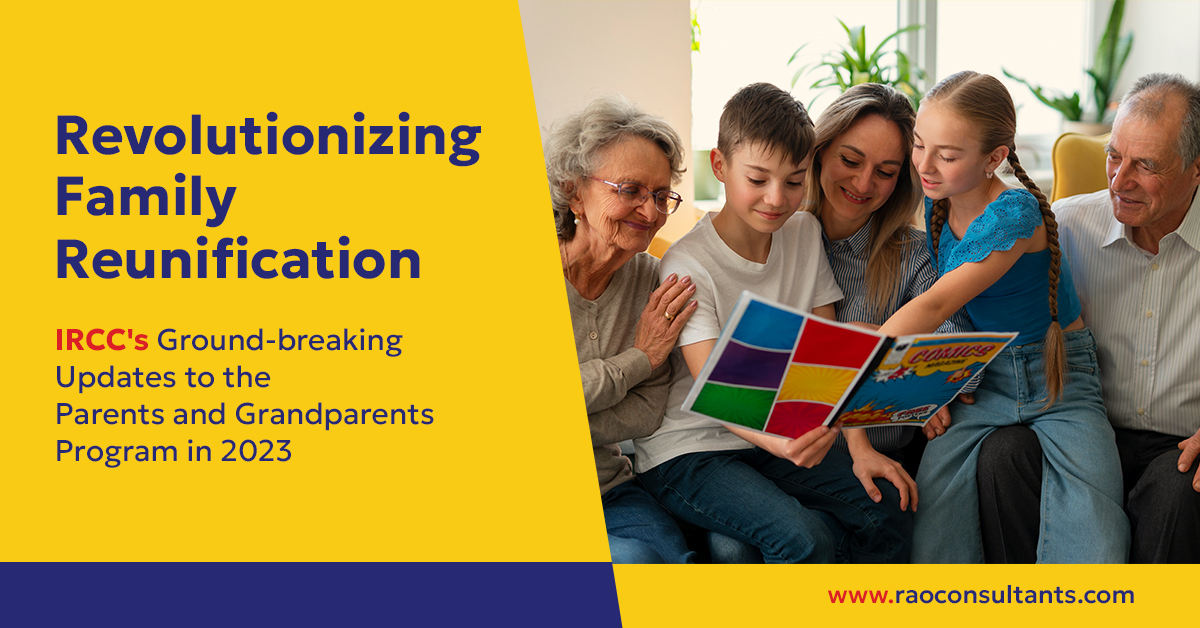 Immigration, Refugees and Citizenship Canada (IRCC) has announced an update to the Parents and Grandparents Program (PGP) for 2023. The PGP allows Canadian citizens and permanent residents to sponsor their parents and grandparents for Canada PR .
Under the updated PGP, IRCC will accept up to 15,000 complete applications for sponsorship. This is the same number of applications that were accepted in 2022.
The PGP will be a lottery-based system, and IRCC will randomly select 24,200 prospective sponsors to apply. The invitations to apply will be sent out over a two-week period starting on October 10, 2023.
To be eligible to sponsor a parent or grandparent under the PGP, the sponsor must:
Be a Canadian citizen or permanent resident

Be at least 18 years old

Have a valid Canadian SIN

Meet the income requirements

Not be inadmissible to Canada
The income requirements for the PGP are based on the Low-Income Cut Off (LICO). The LICO is the minimum income level that a household needs to meet its basic needs.
The PGP is a popular program, and demand for sponsorship far exceeds the number of spots available. In 2022, IRCC received over 100,000 applications for the PGP, but only accepted 15,000 applications.
If you are interested in sponsoring your parents or grandparents under the PGP, you can start preparing your application now. The application process can be complex, so it is important to start early.
You can find more information about the PGP on the IRCC website, and with our experts help you can call your parents and grandparents in Canada.
Here are some additional details about the update to the PGP:
The processing time for the PGP is typically 12-18 months.

Parents and grandparents who are sponsored under the PGP are eligible to apply for permanent residency after they have lived in Canada for at least two years.
The PGP is a great way to reunite families and bring loved ones to Canada. If you are eligible to sponsor your parents or grandparents, I encourage you to apply.
The Super Visa
The Super Visa presents a sought-after choice for Canadian citizens and permanent residents seeking to facilitate the arrival of their foreign parents and grandparents to Canada.
This visa is a temporary permit, granting parents and grandparents the privilege of visiting their families for a continuous period of up to five years, eliminating the need for frequent visitor status renewals. Super Visa holders also enjoy the advantage of multiple entries into Canada for a period of up to 10 years. Additionally, those already in possession of a Super Visa may potentially extend their stay in Canada as visitors for up to seven years.
One notable feature of the Super Visa is its consistent availability throughout the year, making it a particularly appealing option for sponsors who value predictability in the process of bringing their parents or grandparents to Canada.
To qualify for the Super Visa, applicants must meet the following criteria:
Be a parent or grandparent of a Canadian citizen or permanent resident.

Exhibit no inadmissibility to Canada on grounds of criminality or health.

Demonstrate the ability to meet income requirements as outlined by the Low-Income Cut Off (LICO).

Furnish a signed invitation letter from their child or grandchild in Canada, including a commitment to provide financial support for the entire duration of the visit and a comprehensive list of household members and their numbers.

Provide evidence of medical insurance coverage for a minimum of one year, obtained from a Canadian insurance company.