Looking for a Hassle-Free Visa & Immigration Service?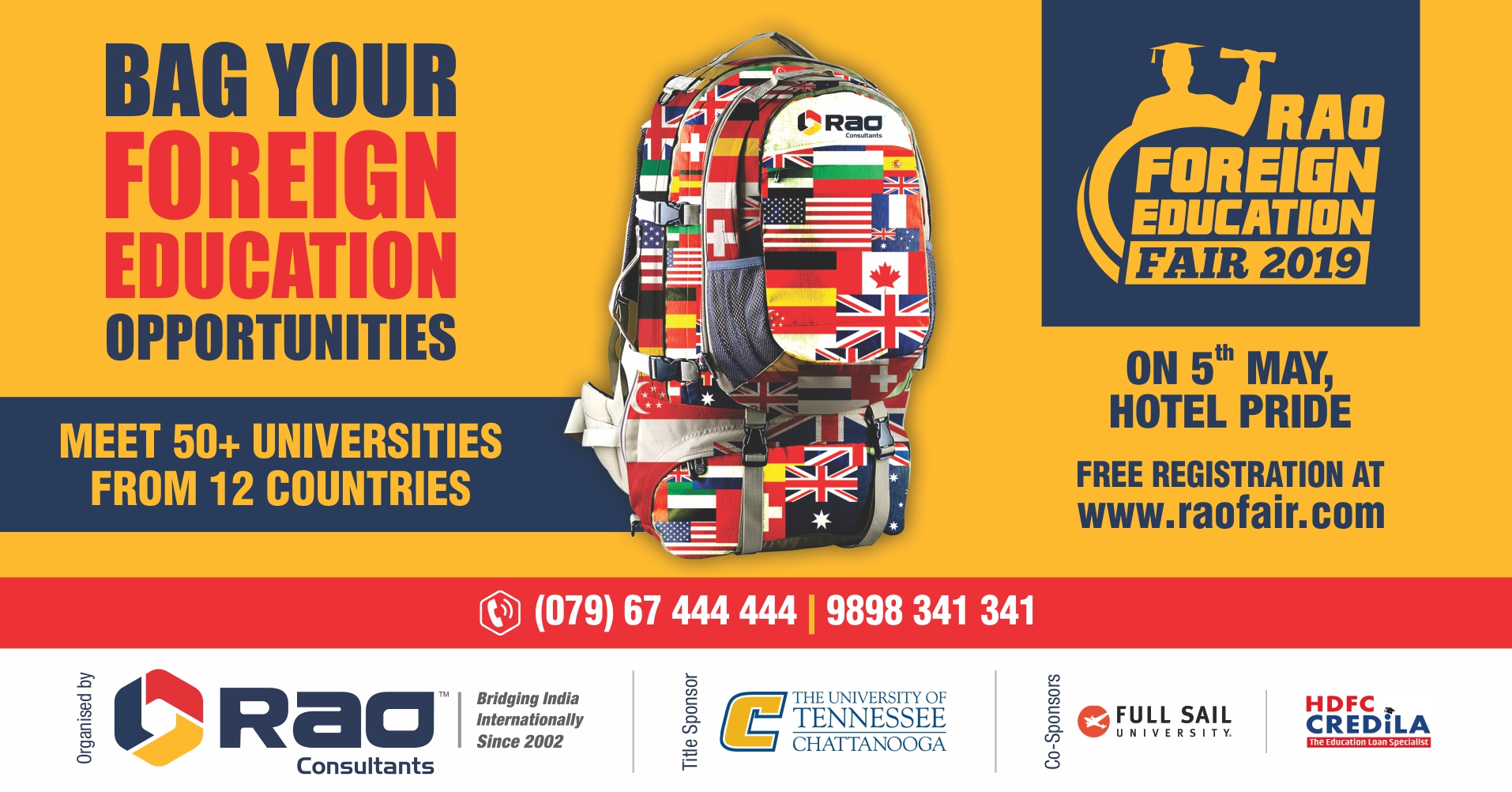 If you are planning to study abroad and expand your career horizons, this is the right time.
Yes! Ahmedabad's most awaited foreign education fair is back!
Rao Consultants has been recognized as one of the top visa consultants in India. As an accredited member of ICCRC and the American Bar Association, we ensure that our students experience the highest standards of visa and immigration service.  The sheer dedication and strong attention to detail of our team have made us to the top of the list.
How Is Rao Foreign Education Fair 2019 Important for Your Visa & Immigration Journey?
The visa immigration process requires an enormous amount of documentation. Our counselors will help you with a wide range of procedures. Forget the long and tiresome process. At the Rao Education Fair 2019, we make this process smooth and hassle-free for you.
The student visa is usually valid for the period of time of the course selected by the student and requires a series of checks before it is granted. We will guide you thoroughly for part-time work opportunities for certain universities of a specific country.
These rules vary from country to country and from courses to courses. When applying for a student visa, you need to adhere to the regulations of different countries.
Rao Foreign Education Fair 2019 is very important since all our counselors will be present at the venue to ensure that you are well-prepared for all possible contingencies.
In case if you are applying for student visa, before submitting the application, you need to submit the following important documents:
The letter of acceptance from the college you have applied
Your English proficiency examination results
Other recommendation letters, if any
Our counselors will help you know the following things:
The most important stages of obtaining a student visa
The process of preparing yourself for the interview
Possible interview questions
Each country has its own specific processes to provide visas to prospective immigrants. Understand it thoroughly before embarking on the process.
Fill up the various applications
Write the reasons for visa application
Study the norms for these applications carefully
We, at Rao Foreign Education Fair 2019 make sure a stringent process so that there should not be any miscommunication. The thorough analysis and guidance ensure that your application is not rejected.
The laws, rules and regulations of each country are unique and we, at Rao Education Fair, help you stay ahead with time. Simple things like having the right documents, or being well prepared for the interview and having updated information on the immigration laws can be a game changer for your application.
Get 100% cash back on consulting fees:
Once you come to the fair with your family, you will come to know about our wide range of visa and immigration services. This year, you will have a great opportunity. You will be entitled to receive 100% cash back on our visa consulting fees!
At Rao Foreign Education Fair 2019, we will provide you with documents that ensure that there are no loopholes in your application.
Just fill up the application form to match the data of your documents whichever you have provided. You also need the following documents:
Complete background information
Supplementary travel information
Family information
Proof of English proficiency for exams like IELTS, TOEFL etc.
Work experience certificate, if any
Reference letter
Recent passport size photographs
Get exclusive chances to personally meet the well-experienced examination body of IELTS members.
This Foreign Education fair will help you understand the entire visa procedures.
Attested copy of the police clearance certificate
Attested copy of the medical clearance certificate
With a wide range of services from visa and immigration to PR, we, at the Rao Education Fair 2019, ensure that you and your parents don't have even a single doubt in mind so that the process goes off without a hitch.
This event is the right platform for you if you are looking for a hassle-free visa service. Do not forget to come along with your parents or guardians. We will meet you at Rao Education Fair 2019 on 5th May at Hotel Pride, Ahmedabad.