Perfect Time For Canada PR – Covid-19 Increased Immigration To Canada
Posted by

Publish on

August 26, 2020

Updated on

January 20, 2022

Comments

0 comment

Total Views

2,256 views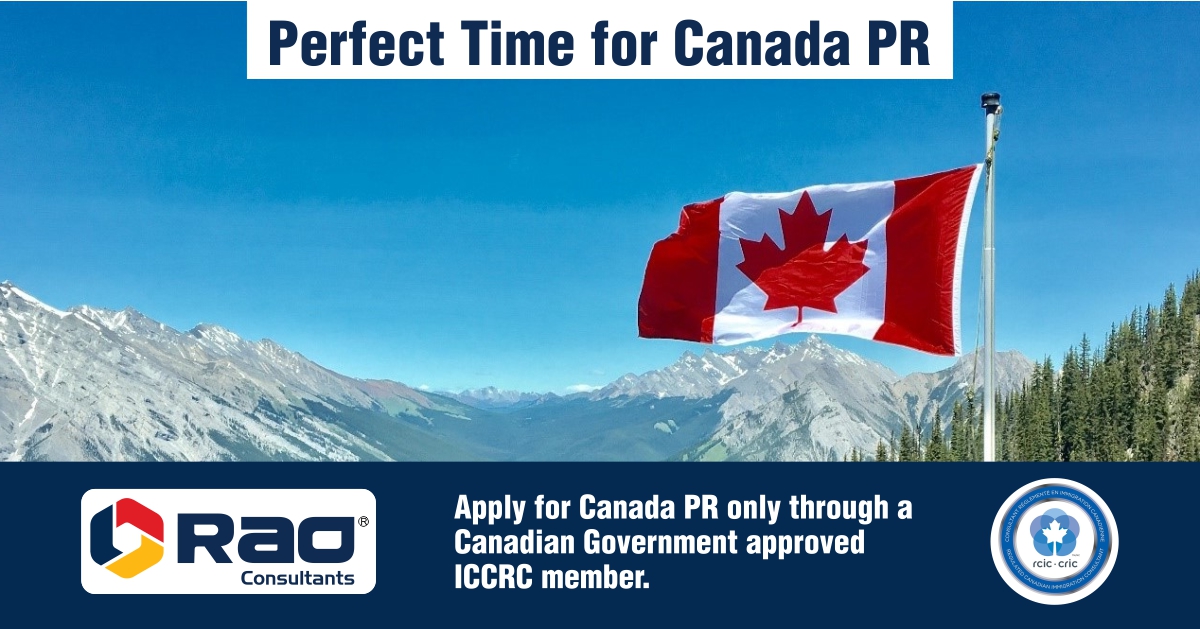 The coronavirus pandemic is not discouraging immigrants from moving to Canada but encouraged even more. Strange but true! The latest survey suggests that amid the Covid-19 pandemic more people are excited in immigrate to Canada. In the latest survey held by World Education Services (WES) In June 2020, approximately half of the people replied that Covid-19 had increased their curiosity in immigrating to Canada.
In the WES (World Education Services) survey of June 2020, more respondents reported their increased interest than a similar survey held in April 2020. There were 45% of respondents shown eagerness to settle in Canada while six percent were less interested, while in an earlier survey 35% have shown interest for the same. There were 58 percent of respondents, who has faith in Canada's economy better than their home country.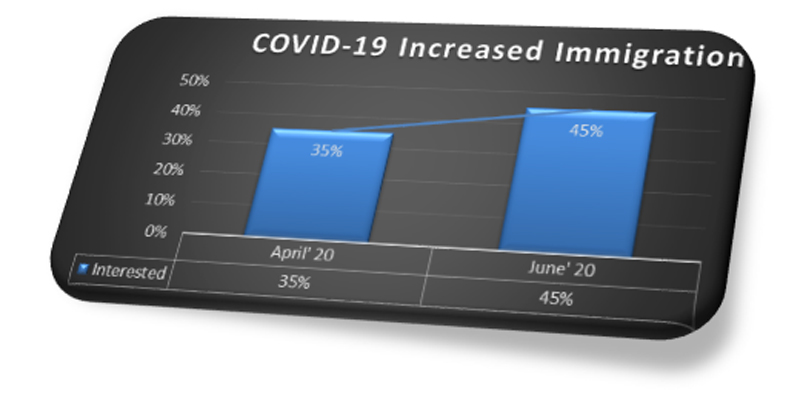 Courtesy:  World Education Services (WES)
Reasons for increased Immigration to Canada amid Covid-19?
There are multiple reasons why this is a perfect time for Canada immigration. As we know, the Canadian visa application process is not affected much in the corona outbreak. Not only that, but the pandemic has not broken the supply chain of the goods delivering to Canada which means, the country does not face any shortage of goods and relevant services. Moreover, the Canadian government has taken prompt actions to avoid community spread of the virus. Let us discuss more factors attracting immigrants to Canada.
1. Immigration expected to play an important part in Canada's Post-Corona recovery
Considering the current scenario, Canada has been facing huge shortages of skilled manpower due to high rates of retirement and low birthrate. These predominant concerns lie before Covid-19, and professionals predict that situation may even worse in near future. The Canadian government has already confirmed that immigration will continue to be a top priority in a post corona phase.
2. Canada shows vibrant recovery in the economy
Immigrants believe that negative financial impact in Canada to be lesser risky than in their home countries. Though Canada also has taken a financial hit from the pandemic, 55% of jobs lost during the Coronavirus outbreak recovered by July 2020: according to the Labour Force Survey.
3. Higher demand for skilled immigrants in Canada:
Due to the COVID-19 outbreak, enormous labor was lost occurred in every sector. Hence, the "key" industries in Canada will be needed skilled manpower more than ever in the post-corona period. According to research 20% of healthcare, 15% of tourism and 50% of agricultural workers are migrants and their need in the future will be increased. Since developed countries are facing a very high shortage of skilled manpower higher-income countries can pull and hold these workforces.
How to immigrate as a skilled worker? 

Click here
4. Emigration pressure will remain, and potentially increase
Indeed, even in the post corona period, migration pressure will remain the same or even more. Because of a combination of fresh economic stocks, current demographic, and financial pressure, huge skilled workers will be required. Hence, we will see the immigration rates will be increasing in the future.
5. US Laws are very restrictive for H1- B Visas
There has been a huge shift in how immigrants are choosing destination countries lately. The number of US visa seekers has declined while Canada immigrant numbers are seeing huge increases! Immigration experts all over are united in suggesting Canada as the place to immigrate in the current environment. Recently, US laws saw a change and were made very restrictive for international skilled employees in US businesses.
In June 2020, President Donald Trump adjourned the migration of certain visa holders; this suspension also included certain H1-B visa holders. The reason behind such a move was to employ the thousands of American employees who lost their job during the COVID-19 pandemic. This led to many immigrants in the US losing their employment and shifting their sights towards Canada.
6. Canada is welcoming immigrants
Canada has been greeting tech workers wholeheartedly. The maple country has invited a huge number of skilled foreign workers over recent years. As directed by Canada's Information and Communications Technology Council report, 40% of those employed in the tech segment are immigrants. This means that 25% of Canada's total workforce is from abroad.
7. US business may shift to Canada
American companies have also begun to think of setting up their business in Canada to gain from the influx of talented global professionals. Prominent Canadian businessperson Tobias Lutke urged the banned professionals from the U.S. to consider Canada. Due to the limitations that the U.S. has imposed on skilled workers, thousands of immigrant skilled workers have begun the move to Canada.
8. Target One million new immigrants by 2021
The current immigration strategy calls for more than one million new permanent resident in Canada between 2019 and 2021. Among these immigrants, the majority will be economic migrants, coming through various provincial and federal programs such as the Federal Skilled Worker Class and the Provincial Nominee Program.
Immigrants are considering the Canadian immigration policy that includes longstanding arrangements connected to Canada's demographic composition, growth, key industries, and appeal to new immigrants to the local centers. The above factors attracting the interest of immigrants to Canada.
Are you planning to move to Canada? Grab the opportunity!
In case you are an expert professional in Technology, Finance, Education, Marketing, Healthcare, etc., this is the right time to apply through the PNP program. The Canada Provincial Nominee Program (PNP) is the most popular and accessible platform to settle in Canada. This program is favorable for those applicants who want to relocate to Canada and obtain PR quickly. Through the PNP Program, Canadian areas and provinces can select immigrants for a Canadian Permanent Residency. You can be an applicant by approaching the province and applying for a nomination under the Express Entry stream.
About Canada Provincial Nominee Program (PNP):
The Canada Provincial Nominee Program is prepared to bring in international skilled manpower to Canada. A huge number of energetic candidates have moved and settled in Canada through the PNP program. The topmost Canadian regions to apply via PNP are:
Prince Edward Island
Saskatchewan
Nova Scotia
Manitoba
Ontario
How Rao Consultants can help you?
As accredited members of ICCRC and the American Bar Association, we ensure that we are offering our clients only the highest standards of service. Several certificates need to be submitted and each has to be wisely checked before submitting.  A simple misstep will ensure that you miss out on fulfilling your dream and what is the dream of millions around the world. Rao Consultants have been hands-on partners of those aspiring to settle abroad. We welcome you to give us a call or visit our offices to learn more about how we can help you achieve your Canadian dreams.