Targeted Occupations in Canada PR Express Entry STEM workers in High Demand!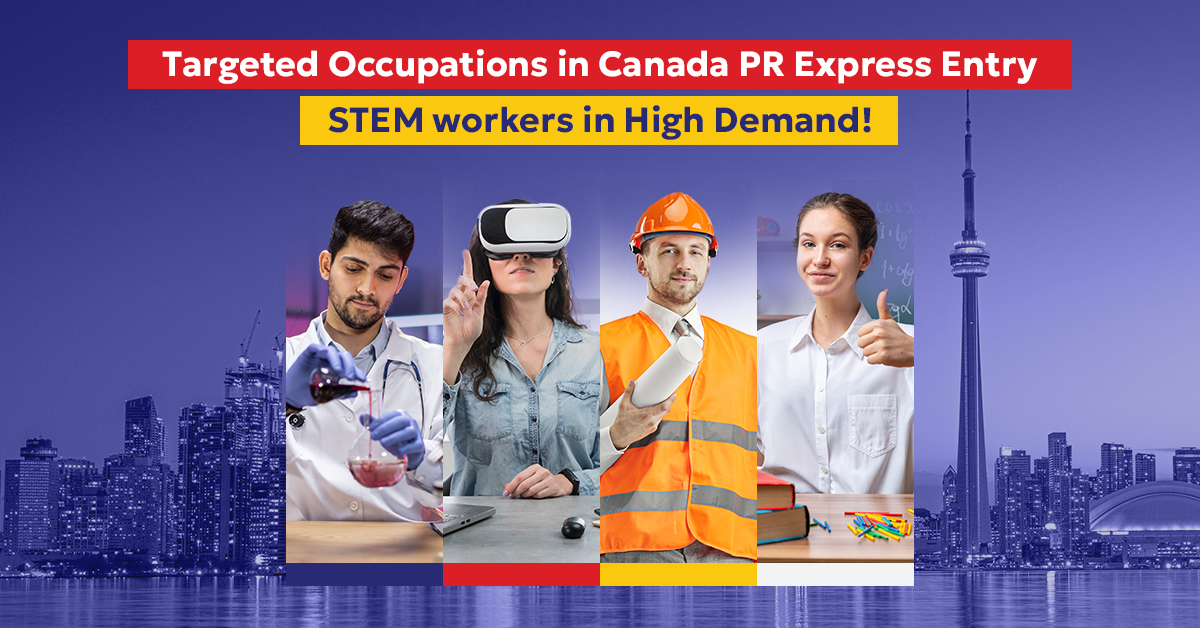 Canada is facing a shortage of skilled workers in many sectors, including science, technology, engineering, and mathematics (STEM), healthcare, transport, trades and agriculture/agri-food. To address this shortage, the Canadian government has prioritized STEM occupations in its Express Entry Immigration program.
Express Entry is a points-based system for selecting immigrants who are skilled workers or have the potential to become skilled workers. Candidates are ranked in a pool based on their Comprehensive Ranking System (CRS) score, which is calculated based on factors such as age, work experience, education, and language skills.
The highest-scoring candidates are invited to apply for Canada PR Visa. In recent years, the government has held targeted Express Entry draws for candidates in STEM occupations. This means that candidates with work experience in STEM occupations have a better chance of being invited to apply for permanent residence, even if their CRS score is lower than the cut-off score for regular Express Entry Draws.
Why STEM Became a Priority in Express Entry Selection:
Bridging the Skills Gap in Canada's Thriving Tech Sector
By the end of 2022, Statistics Canada unveiled a report underscoring the imperative need to address the skills deficit within Canada's STEM workforce. This deficiency arises primarily from the substantial retirement rates and the continuous evolution of technology and automation, permeating both businesses and daily life.
Notably, Canada's Artificial Intelligence (AI) sector has been experiencing exponential growth, leading to a heightened demand for technology professionals. The nation has earned the fourth spot in the Global AI Index's global competitiveness rankings, reflecting its prowess in innovation, implementation, and investment.
The Honorable François-Philippe Champagne, Minister of Innovation, Science and Industry, commented, "Canada's exceptional capacity to attract top-tier talent is one of its core strengths. This newly introduced STEM-focused selection round is set to bolster our science and technology sector and its workforce by attracting an even larger pool of skilled professionals, essential for propelling innovation and unlocking growth opportunities."
He further emphasized, "With its unrivaled talent attraction capabilities and the innovative potential of its entrepreneurs, Canada stands as the premier global destination for launching and expanding technology enterprises."
How Many STEM Professionals Does Canada Demand?
The Canadian Occupational Projection System (COPS), administered by Employment and Social Development Canada (ESDC), offers insights into the employment prospects within various occupations. It also estimates the anticipated job opportunities in specific professions throughout the 2022 to 2031 period.
Here are some outlooks for STEM careers:
| | |
| --- | --- |
| Occupation | Opportunities |
| Software engineers and designers | Anticipating 44,300 fresh job opportunities |
| Computer programmers and interactive media developers | Envisioning 80,500 upcoming job openings |
| Civil engineering | Projecting 26,100 new job prospects |
| Mechanical engineering | Foreseeing 12,700 additional positions |
| Industrial and manufacturing engineering | Predicting 3,800 new job slots |
| Electrical and electronics engineering | Expecting 12,600 more employment opportunities |
| Mathematicians, statisticians, and actuaries | Anticipating 4,600 fresh job openings |
| Technical occupations in physical sciences | Predicting 12,200 new job positions |
These statistics indicate a substantial demand for hundreds of thousands of proficient STEM professionals to meet the forthcoming job vacancies and address labor shortages in Canada.
What Prospects Await Potential Immigrants to Canada?
As per the Express Entry year-end report for 2022, the predominant occupations receiving invitations to apply (ITAs) were centered around the technology sector. Specifically, software engineers and designers, information system specialists, and computer systems developers and programmers emerged as the most prevalent occupations among candidates who received ITAs through Express Entry in 2022.
Consequently, skilled STEM professionals aspiring to relocate to Canada may find opportunities through category-based Express Entry draws tailored to STEM workers. These proficient individuals will play a pivotal role in bridging labor market shortages and fostering the growth of Canada's STEM sector while simultaneously pursuing meaningful careers in the country.
Past STEM Express Entry Draws Overview
Up to this point, IRCC has conducted a single round of invitations exclusively for skilled individuals in STEM fields.
This draw occurred on July 5th, wherein 500 immigration candidates possessing STEM-related work experience received invitations to apply for Canadian permanent residence. The candidates in this draw were required to have a minimum Comprehensive Ranking System (CRS) score of 486.
For an up-to-date record of all Express Entry draws organized by IRCC, you can refer to this link, as the page will be refreshed with each new draw.