What to Expect in the IELTS Examination?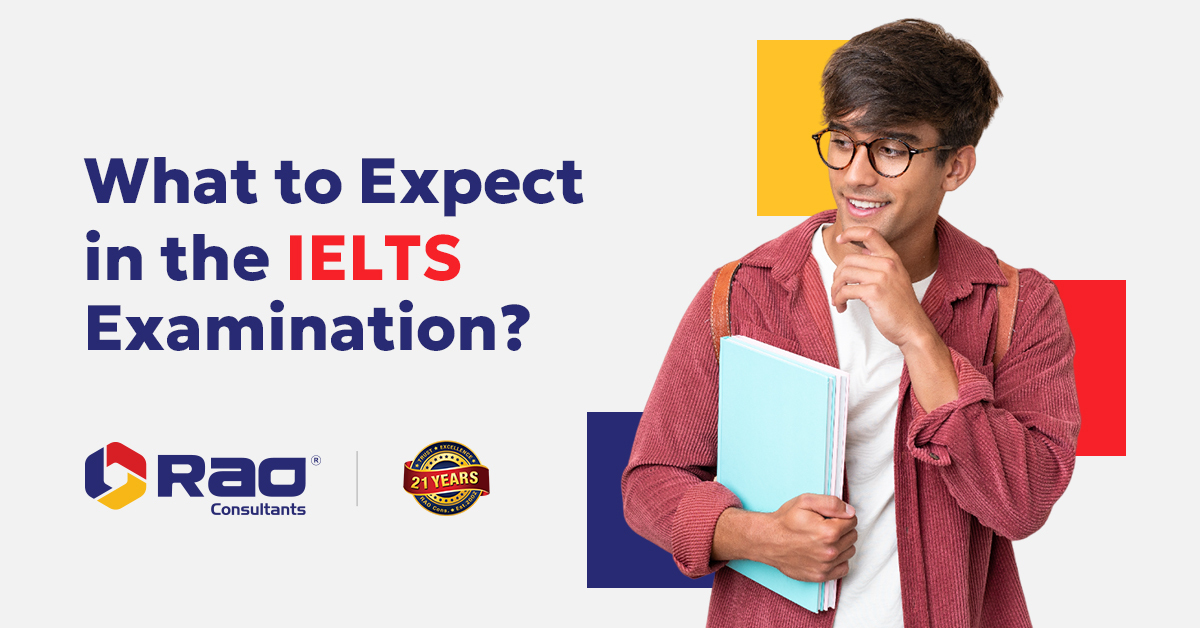 The International English Language Testing System, commonly known as IELTS, is a crucial examination for individuals looking to study, work, or migrate to English-speaking countries. It's recognized worldwide as a reliable assessment of English language proficiency. To succeed in the IELTS examination, it's essential to understand what to expect. In this blog, we'll explore the various aspects of the IELTS examination, including its format, expectations, and how to prepare effectively. We'll also touch upon the significance of IELTS coaching, focusing on the offerings of Rao Consultants in Ahmedabad.
Understanding the IELTS Examination
Before diving into what to expect in the IELTS examination, let's first understand the basics of this test. The IELTS examination assesses a test-taker's ability to understand, communicate, and interact in English in various contexts. It consists of four main components:
Listening: This section evaluates your ability to understand English, including conversations and monologues. Test-takers listen to audio recordings and answer questions based on what they hear.
Reading: In the reading section, you are presented with a variety of texts and are required to answer questions related to the content. The texts vary in complexity, and you must demonstrate your reading comprehension skills.
Writing: Test-takers are assessed on their ability to present ideas coherently and write essay and letter/report in response to given prompts.
Speaking: The speaking test is a face-to-face interview with an examiner, where you'll discuss various topics, express opinions, and engage in conversations.
Deciphering IELTS Requirements
Now, let's delve into what the IELTS examination expects from candidates:
Language Proficiency: The primary expectation is that you possess a strong command of the English language. You should be able to use a wide range of vocabulary, use correct grammar and syntax, and pronounce words accurately.
Adaptability: The IELTS examination is designed to test your ability to adapt to different accents and dialects. The listening section, in particular, presents a variety of accents, including British, American, Australian, and Canadian, to name a few.
Time Management: Each section of the IELTS examination has a strict time limit. It's essential to manage your time effectively to complete all tasks within the allocated time.
Analytical Skills: In the reading and writing sections, you'll need to demonstrate analytical skills. You must comprehend the main ideas of texts and develop well-structured essays or reports.
Fluency and Coherence: When speaking and writing, you are expected to communicate clearly, coherently, and with fluency. This means maintaining a logical flow in your speech and writing, and avoiding excessive pauses or hesitation.
Content Relevance: Your responses in the speaking and writing sections should be directly related to the given topics or prompts. Irrelevant or off-topic responses will negatively impact your score.
IELTS Exam Preparation
Preparing for the IELTS examination is crucial to meet the expectations and perform well. Here are some key aspects of IELTS exam preparation:
Vocabulary Building: Enhance your vocabulary by learning new words and phrases. This will help you express yourself more effectively in both the speaking and writing sections.
Practice Tests: Familiarize yourself with the IELTS format by taking practice tests. These simulate the actual exam conditions and help you get comfortable with the time constraints.
Listening Practice: Listen to a variety of English audio materials, such as podcasts, interviews, and news broadcasts, to improve your listening skills.
Reading Practice: Read a wide range of texts, including newspapers, magazines, and academic articles, to improve your reading comprehension.
Writing Practice: Work on your writing skills by practicing essay and report writing. Pay attention to essay structure and organization.
Speaking Practice: Engage in conversations in English with native speakers or fellow test-takers to improve your speaking skills. You can also record yourself and evaluate your speaking performance.
Time Management: Learn to manage your time during the examination. For instance, in the reading section, don't spend too much time on a single question. If you're unsure, move on and come back to it later.
IELTS Exam Expectations
Apart from individual skills, there are some specific expectations for each section of the IELTS examination:
Listening: You will listen to four recordings, each with a set of questions. Pay attention to the instructions and take notes while listening. The recording will only be played once.
Reading: The reading section consists of three long texts with questions. Expect to encounter various types of questions, such as multiple-choice, true/false/not given, and matching information.
Writing: You will be given two writing tasks – Task 1 (a report) and Task 2 (an essay). Task 2 is worth more points, so allocate your time accordingly. In Task 2, make sure you present a clear argument and support it with relevant examples.
Speaking: During the speaking section, the examiner will ask you a range of questions. Be prepared to discuss a variety of topics, including personal experiences, opinions, and abstract ideas. Keep your answers detailed and avoid one-word responses.
The Significance of IELTS Coaching
IELTS preparation can be an overwhelming task, especially if you're not sure where to begin. This is where IELTS coaching comes into play. IELTS coaching in Ahmedabad, provide valuable support and resources to help you achieve your desired scores. Here's why you should consider choosing Rao Consultants for your IELTS preparation:
Expert Guidance: Rao Consultants boasts a team of experienced and highly qualified instructors who are well-versed in the IELTS examination. They can provide personalized guidance and feedback to help you improve your skills.
Comprehensive Study Material: Coaching centers like Rao Consultants typically offer a wide range of study materials, including practice tests, sample essays, and speaking tasks. These materials are essential for effective exam preparation.
Structured Curriculum: Rao Consultants can provide you with a structured curriculum that covers all four sections of the IELTS examination. This ensures that you receive a comprehensive education on what to expect and how to prepare.
Mock Tests: Mock tests are a vital component of IELTS preparation. Rao Consultants can administer mock tests that simulate the actual exam conditions, helping you get used to the time constraints and testing environment.
Feedback and Evaluation: One of the key benefits of coaching is the constant feedback and evaluation. Rao Consultants can assess your progress and pinpoint areas that need improvement.
Confidence Building: IELTS coaching centers can boost your confidence by providing you with the skills and knowledge required to excel in the examination.
Conclusion
In conclusion, the IELTS examination expects candidates to demonstrate proficiency in English language skills, adaptability to various accents, effective time management, analytical thinking, and coherent communication. To meet these expectations, thorough preparation is essential. IELTS coaching in Ahmedabad offer valuable support and resources to help you achieve your goals. With the right guidance and practice, you can confidently face the IELTS examination and make your dreams of studying, working, or migrating to English-speaking countries a reality.
If you're considering IELTS preparation, why not choose Rao Consultants for the best guidance and support? Our experienced instructors, comprehensive study materials, and structured curriculum will help you achieve your desired IELTS scores. Join us today and take the first step toward your international dreams.