Online IELTS Coaching Classes – Learning at Home
Posted by

Publish on

April 8, 2020

Updated on

January 20, 2022

Comments

0 comment

Total Views

4,689 views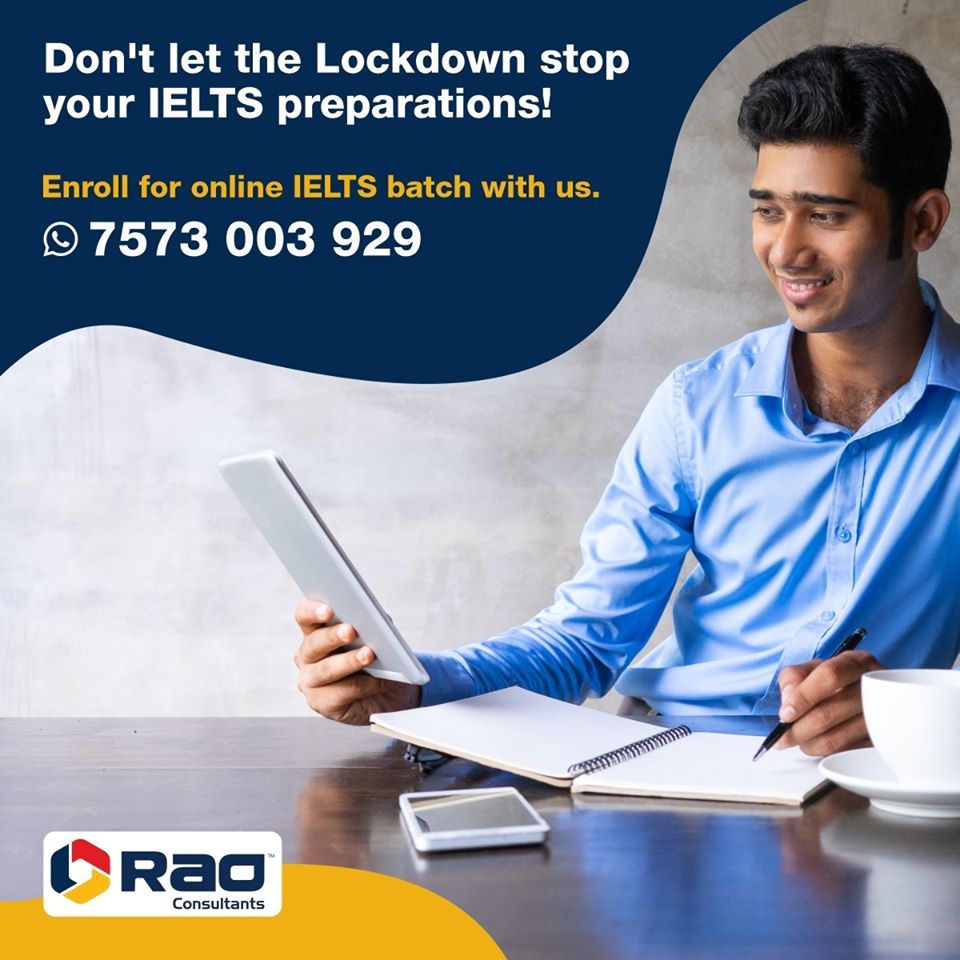 One of the biggest casualties of the lockdown following the COVID-19 outbreak, has been higher education, especially students who were looking to study abroad.
With IELTS examinations all over the country, and in fact the world, being postponed, it has left students with only questions. Because of the sheer uncertainty surrounding the lockdown, fresh dates are yet to be shared. In a situation of uncertainty the only thing that is certain, is that you still need to be prepared for the foreign going competitive examinations.
While things might look bleak, this time does come as a great way to upgrade yourself and better your learning curve. The bigger the crisis, the more creative the solutions. If there is something this situation can teach us, it is this.
So, with that thought in mind, we bring you a list of ways students hoping to study abroad, can keep up with their foreign going competitive examination preparation. Our online IELTS coaching faculties have compiled a list of ways through which students can make sure that they are keeping up with their prep.
Without further ado, let's take a look at some of the ways you can ensure you are not falling behind in your study abroad plans.
Research Online
In times of a global lockdown, everyone has come to appreciate the blessing that the internet is. The internet has all the information you need in order to keep yourself updated in the absence classroom learning. For starters, for everyone preparing for IELTS to study or settle abroad, can use this time to make sure they are getting their grammar and vocabulary on point. This might be a great time to catch up on your reading. There are thousands of PDF's available online, and as any IELTS trainer would say, there is no substitute for reading when preparing for IELTS.
Keep Notes
When there are classroom sessions, taking notes is almost mandatory. However, as soon as classrooms shift to online, the comfort factor kicks in. This is when a student may lose that edge that allows him or her to make the most of the learning on offer. Digital learning does not necessarily need to be that way. If you are trying to make sure your preparation continues during this time, keep taking notes on every class you attend. These notes will not only help maintain a continuity in terms of reference material, but also help you imbibe more of the course material on offer.
Prepare Questions
Learning online does not mean not getting answers to all your queries. At Rao Consultants we have ensured that our online IELTS coaching faculties are available to make sure students have all their queries answered, be it through online classrooms or even through plain and simple emails. It is important to create a concrete list of your queries and having your faculty address the same. If you are preparing by yourself, make sure that you are using Google to the fullest.
YouTube
When learning online, there is no better platform for online tutorials, than YouTube. For modules like listening and reading, YouTube provides a number of videos that can help you keep up with your learning. It is important however, to make sure you are getting only authentic information, which is why it is always a great idea to consult your teachers about the best channels to be subscribing for preparation. With this platform, you do not necessarily have to stick with one subject, but can actually choose the module you want to study.
Create Your Own Study Plan
With online learning, you do not necessarily need to be restricted to a conventional study plan. The key here is to ensuring that you understand your weaknesses and strengths and create an action plan based on the same. If you feel, like so many others, 'true, false, not given' questions are a big hurdle, make sure that you pick out as many reading tests as possible and use the same to prepare. Being a self-starter becomes crucial in a time like this. It is important to not just blindly prepare, but be judicious in identifying which areas need more work. Identify the same and create a study plan to help you push your score even higher during the lockdown.
Keep Testing
The most important part of online IELTS coaching at Rao Consultants, Ahmedabad's #1 IELTS Coaching, are the rigorous mock tests. If you want to understand the amount of progress you made, it becomes crucial to keep testing yourself regularly. There are a number of online resources available that can provide you free tests if you are studying by yourself. If you want, we, at Rao Consultants, have a bank of ready practice tests and would be more than happy to help prepare a testing schedule for you wherein you can keep testing your progress through the days of the lockdown.
Decode IELTS
Listening
Reading
(Academic & General training)
Writing
(Academic & General training)
Speaking
4 sections, 40 questions & 40 minutes
Academic Reading- 3 sections, 40 questions & 60 minutes

General Training reading-
3 sections, 40 questions & 60 minutes

Academic Writing- 2 tasks 60 minutes

General Training writing-
2 tasks 60 minutes

One – on – One interview
IELTS is an examination that has a pretty set format. With online IELTS also around, it becomes even easier to understand and choose an option that suits you the most. Depending on the course you want to pursue or if you are looking to settle abroad, you can identify your targeted score. This would be a great point to reverse-engineer your practice routine in order to help you achieve your target score.
It is important to identify where you feel you need more work. And the more you practice the better informed you will be about the same. It is important to make sure that you have a clear idea of the requirements of the IELTS examination before you embark upon your journey to the bands you desire.
Work With Your Buddies
If you have a friend who also wants to give IELTS or has already given it, try and rope them in to help you with your practice. The biggest hurdles for most students in Gujarat, is the speaking section. For this it is important that you take a two pronged approach.
Team up with your buddy and have a call/Skype interview with him or her. Make sure that you are conducting yourself exactly as you would in the interview. This means making sure you are dressed appropriately and ensure that you are answering all the questions posed to you. Once you have done that, give each other feedback as to what you could have done better. It is always better to have an impartial opinion about your preparation. Also, if you are able to record your interviews and review them at a later date, that could also help you improve your overall score in speaking.
The most crucial aspect of speaking is not being flashy about it, but making sure that you are articulate. It is important to cover all the important pieces of information while ensuring that you are not spending too much time in 'umm' and 'ah'.
Involve English in Your Daily Life
Learning English is all about surrounding yourself with the language. To start with, pick up a book or two and make sure that you are learning new words. Reading will also be a great way to improve upon your comprehension skills.
Another great way to improve upon your listening module scores, is to listen to podcasts. Even better if you are able to listen to podcasts in different accents, British, American or Even Australian. This would be a great way to help yourself familiarize with different accents and pronunciations to help you better identify answers in the listening module.
A great tool to improve your reading and comprehension is to watch foreign language films with subtitles on. Once you are done with it, try and write a small synopsis of the movie, compare it with an online synopsis in English and see how close you were to it.
Word games are a great way to keep yourself busy when under lockdown. Moreover, this will also give you and your family something to do to kill time. Scrabble is a great way to pass the time and make sure you are keeping up with learning the English language.
Time Yourself
When learning online at home, the biggest thing we forget is timing ourselves. IELTS, be it online or on paper, is a highly time-sensitive test. This makes it crucial for you to keep a strict tab on the amount of time you are taking to answer questions. Simple things like underlining points while doing mock-tests, making notes while listening, are best practices to ensure that you are making the most of your time.
The only way to ensure that you are keeping your preparation time-sensitive is to ensure that you are practicing tests regularly. Keep an alarm for every module and make sure you are not exceeding the time. In fact, if you find yourself taking it easy with the time, give yourself a 10-minute handicap before starting the test. This will give you a great pressure situation to help you make the most of your test. It is learning in this kind of a situation that will help you perform at peak capabilities during your examination.
Take Breaks
Even during a lockdown, all work and no play makes Jack a dull boy/girl. While it is very important that you score well in your IELTS, it is even more important to not over-work and stress out when the situation is already so grim out there.
Make it a point to take regular breaks from studies through the day. A simple routine of 60 minutes of studying following by 5-10 minutes of break usually works for students and also helps you focus better. It is best if you can engage yourself in games, movies or music that can help you with your language skills. If you do not want to read a book, watch a movie, listen to a podcast or even a TedX talk. All of this will help ensure that you are making the most of your time, but still keeping yourself mentally fresh.
Dealing With Stress
The current situation is difficult to deal with. A global pandemic is not something anyone had foreseen. This is what makes the situation so odd. There are a lot of ways that you can be distracted or distressed during this period.
It is important for you to keep your mental health in ship shape. Keep learning new things, engage in positive activities everyday, simple things like writing yourself a note, or sending friend a message to cheer them up, can work in lifting up your spirits.
When the days are dark, one needs to reach deep into themselves and find the light that will show them the way.
There are a number of ways that one can make sure that their learning is not impeded by the lockdown. All it takes is grit and determination to make sure that you are striving towards achieving your dream. If you really want to study abroad, and live your dreams of becoming a global citizen, online IELTS preparation is the best way to go for you. This is something that has become apparent in the given situation and continues to be reinforced by teacher and faculty feedback. Millions of students around the world, today, are learning from home.
We, at Rao Consultants, understand that preparing for IELTS to study or settle abroad, in these times is a tough ask. Which is why we have enabled our faculties with the facilities to continue classes through online channels. Moreover, we have provided students with all preparatory material required and are even supporting them through remote query solving.
Preparing for IELTS online, or at home, is nothing to be daunted by. Having a strong work ethic and a critical objectivity towards one's goals is imperative to having a good learning experience when studying at home.
Read On: Best IELTS Coaching In Ahmedabad